Best Mosquito Killer Reviews & Best Bug Zapper Reviews
There are certain pests that you might have in your home like a squirrel or bird that you want to remove from your property in the most humane way possible. However, when we see mosquitoes, we want that mosquito dead. To accomplish this you need the best mosquito killer on the market.
In addition to being a nuisance, mosquitoes can be deadly. News reports are full of individuals who are suffering as a result of mosquito borne illnesses. There are a lot of so-called mosquito killers that do little or nothing to address your mosquito infestation. The last thing that you need is a mediocre product that will not adequately address your mosquito killing needs. You need the best bug zapper on the market.
What we've done is compiled a list of the best mosquito killers we have found. Our mosquito killer reviews and bug zapper reviews will give you all of the information you need to make a conscientious buying decision. You will find also best indoor bug zapper reviews.
Best Mosquito Killer Reviews
1. Flowtron BK-15D Electronic Insect Killer
Specifications
Dimensions 13×9.25×9.25 inches
Weight 4.2 pounds
Style: Lantern
Non-clogging Killing Grid
0.5 Acre Killing Radius
Continuous and Uninterrupted Service
15 W Ultraviolet Bulb
PROS:
Safe, Effective, and Energy Efficient
Easy to Clean
Chemical Free
Silent Running
CONS:
Short Bulb Life Span
Expensive Bulb Replacement
Indiscriminate Killing of Insects
Review:
The Flowtron Electronic Insect Killer is first on our list of reviewed products because it is effective, requires little maintenance, and is environmentally friendly. A unique feature that puts this on the best bug zapper list is that it has an effective radius of more than half of an acre. This is perfect for you, especially if your home or the event you are hosting is in an area that is too large for traditional mosquito deterrents, like a flyswatter or a less powerful insect lamp.
Not for Indoor Use
The Flowtron BK 15d is not designed to be an indoor bug zapper. It uses ultraviolet light to both attract and attack mosquitoes and other small insects. Using a 15 W bulb and shaped to resemble a traditional lantern, the Flowtron BK-15D is a safe and non-toxic way to get rid of unwanted pests.
Non-Clogging Grid
The complaint that many have about electronic insect killers is that to their trapping grids become clogged with the dirt, debris, and dead insects. This unit has a patented non-clogging trapping grid that prevents dirt and debris from caking on the outside of the unit. The unit is safer, and there is none of the short-circuiting or unexpected combustion caused by the remains of dead insects.
Easy to Clean
Since the grid has been designed to resist debris accumulation, cleaning the product is easy. If you do not have a lot of time to clean up dead bugs then this may be the best mosquito killer for you.
Safety is a Priority
This bug zapper light is one of the most powerful currently on the market. Understandably, you are concerned about the safety of your guests and family.
You can feel at ease because the Flowtron UV insect killer is designed with a protective shielding pen. There is no way for your pets, children, or guests to come in contact with the charging element.
Finding the best Location
You will want to have the device is least 25 feet away from areas frequented by people or by pets. This is because the device will attract insects.
It is recommended that you hang the device at least 4–6 feet off the ground. Then sit back and see why many believe this is best bug zapper you can buy.
---
2. Aspeteck's Indoor Electronic Insect Killing Device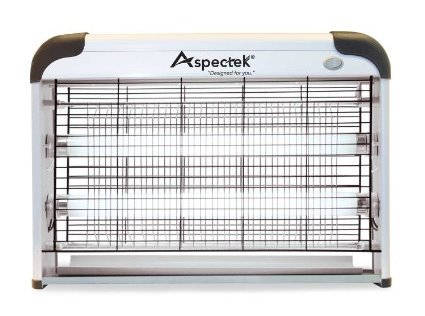 Specifications
Dimensions: 15×3.2×11 inches
Weight: 3.5 pounds
Able to Attract Mosquitoes from up to 80 Feet Away
Delivers a 28,000 V Shock
Two UV Bulbs Attract Mosquitoes
Protective Cage
PROS:
Powerful. The two UV bulbs are designed to emit a powerful black light that is appealing to mosquitoes, flies, and other insects that might bite you. Insects are attracted from up to 80 feet away. This is sufficient coverage for an entire room. When the mosquitoes are electrocuted, there is no chance of them escaping as they are shocked with more than 28,000 V of electricity.
Environmentally Friendly. Since there are no chemicals used, no pesticides, and no sprays, this device is effective without harming the environment. It can be used in areas like hospitals and kitchens.
Safe and Easy to Use. This device requires no setup, you just plug it in and it's ready to go. It needs no maintenance, and disposing of dead insects is very easy. This is easily the best mosquito killer we have reviewed so far.
CONS:
Designed for Outdoor Use
Makes a Loud Crackling Noise When Insects Are Caught
Larger Insects May Begin to Smoke
May Attract and Catch Small Mice
Review:
Aspectek is a company that has made a name for itself in as a leader in the pest control industry. Their electronic insect killer is one of the best selling insect killers online because it works.
A unique feature about the Aspectek Electronic Insect Killer is that it is designed to effectively kill insects while at the same time protecting you, your children, and your pets from accidental electrocution thanks to its protective cage.
Versatile yet Effective
It is versatile thanks to a wire chain that allows it to be hung in different locations in your home, or it can be set on a flat surface.
Its electronic power grid is strong. When mosquitoes come in contact with it, they die.
Over time, this indoor bug zapper will collect dead bugs. The removable and washable tray makes getting rid of the bug carcasses easier. Many consider this to be the best indoor mosquito trap for use in your living room, restaurant, office, or even in hospitals.
Why Is It so Effective?
This device is designed to use to ultraviolet bulbs to attract mosquitoes. Then, this bugs zapper light immediately kills the mosquitoes that come into contact with it. This is the best mosquito killer of its kind because it is maintenance free, chemical free, and can be used wherever you need protection from annoying mosquitoes.
---
3. Stinger Cordless Rechargable Insect Zapper
Specifications
Dimensions: 7.4 x 7.4 x 15.4"
Weight: 3.1 pounds
3.5 Hour Run Time
Covers 625 Ft.² Radius
Rechargeable and Cordless
Easily Removable Tray to Clean up Bug Remains
Sturdy Ring for Carrying and Handing
Lantern Only Accent Lighting Option
NOsquito Mosquito Octenol Lure Included
PROS:
Portable
Easy to Use
Environmentally Friendly
Large Coverage
Uses Black UV Light
Quiet Operation
CONS:
Short Battery Life of Only 3.5 Hours
The Manufacturer Recommends Not Running the Product While It Is Plugged in
Review:
During the warmer months, mosquitoes and other flying insects can be a source of annoyance. The Stinger Cordless Rechargable Insect Zapper is designed to help you win your battle against these pests. Scientists and entomologists were consulted with the goal of making this the best bugs zapper on the market.
Strenuous Research / Development
Before being introduced to the public, these devices must endure rigorous scientific study and field testing. Part of the testing is to determine how wide of an area it will cover and how effective it is at killing mosquitoes. For this reason, you can guarantee that the advertised features of this outdoor mosquito lamp actually work. When Stinger says this is the best bug zapper you can buy they mean it.
What Makes the Stinger Cordless Insect Zapper Stand out?
Some of the outstanding features of this device include the fact that is portable, cordless, and that it can be recharged. It is designed to provide phenomenal coverage for an area that is up to 25 x 25'. It takes three hours to recharge the device, but the device will provide over 3 ½ hours of protection.
If you just need light, you can flip on the lantern only feature, which provides you with accent lighting, but without attracting insects.
The Importance of Proper Placement
To get the best results from this product, it is recommended that you hang the zapper 4-6 feet off the ground. It is recommended that you put the zapper between the insect source, be it a lake, the woods, or standing water, and the area that you want to be protected. You want it to be no more than 14 feet away from human activity. This outdoor bug zapper is designed to reduce the need for mosquito killer spray.
---
4. The Executioner Fly Swat Wasp Bug Mosquito Swatter Zapper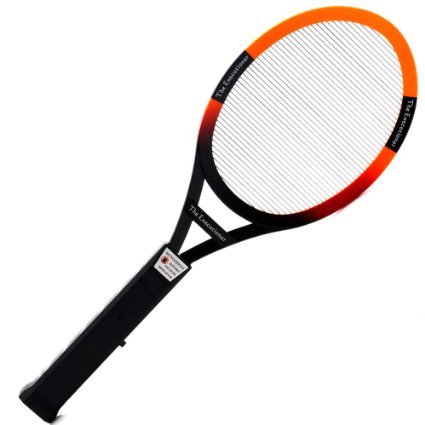 Specifications
Dimensions: 1.8 X7 .09×20.08 Inches
Weight: 4 Ounces
Powered by Two AA Batteries
For Use Indoors or Outdoors
Zinc Steel Grill
ABS Plastic
Easy to Use On and Off Button with LED Warning Light
PROS:
Portable
Easy to Use
Effective
Versatile
High Quality Construction
Tested for up to 100,000 Zaps
CONS:
Batteries Need to Be Replaced
You Need to Hit the Mosquito with the Racket for It to Function
Makes a Loud Cracking Noise
When Insects Are Stuck in the Racket, It Will Smoke
May Only Stun Larger Insects
Review:
In addition to being effective, the Executioner Fly Swat Wasp Bug Mosquito Swatter Zapper is kind of fun to use. If you think that the best mosquito killer is the tennis racket type, then this machine is perfect for you. It works using two AA batteries. You get your first set of AA batteries included when you purchase the indoor fly zapper.
A Well Crafted Machine
This battery powered bug zapper is made of a high quality ABS plastic. This sets it apart from less-expensive knockoff models that eventually just fall apart in your hand. This device is designed to stand up to frequent and repeated use. So if you feel like you spend a lot of time swatting bugs, this is the best mosquito killer for you.
Since you actually have to hold and swing the Executioner, it has been designed to be comfortable in your hands. It's very light. This means that you can swing it to your heart's content and not worry about it having any negative impact on your wrist. You're able to hold it tightly, and its soft grip guarantees that it does not slip out of your hands.
Effective and Satisfying
If you have had to deal with a pesky mosquito problem, you understand how annoying it is to have them buzzing around your head and not be able to do anything about it. With the Executioner, you can simply grab the device and in one motion to press the on button, swing and execute. You will hear a satisfying pop and will see a blue spark indicating that the pesky mosquito is no more. Probably the best mosquito racket.
---
5. Flowtron FC-8800 Diplomat Fly Control Device
Specifications
Dimensions: 12×12×27 Inches
Item Weight 26.1 Pounds
Glow Tube Reflectors
Controlled Power Grid
Vertical Killing Rod Designed to Prevent Grid Clogging
One Year Warranty
Sex Lure Pheromone
PROS:
Industrial Powered Bug Killer That Takes No Prisoners
Industrial Grade Construction
Will Protect an Area of More Than 2 Acres
Provides 360° Protection
Attracts Mosquitoes and Other Flying Insects
CONS:
Emits a Very Bright Light
Generates a Large Amount of Heat
Not for Use on Small Properties
Bulbs Are Expensive to Replace
Review:
The Flowtron bug zapper is designed to eliminate mosquitoes in mass. This powerful mosquito killer is able to provide protection for an area of up to 2 acres.
Equipped with a glow tube, this device attracts flying insects as if it were a mosquito magnet trap. Its glow panel reflector increases the power of the light and attracts mosquitoes.
A Powerful Punch
The AC powered electric grid that charges this monster bug zapper is equipped to produce more than 5000 V and 2.5 A of electricity. This device has one purpose and that is to completely decimate the mosquito population in your area.
Although the device is designed to be located outdoors, if your home is within the 2 acre area of protection, your home will also be an insect free zone.
It Generates Heat
The device takes advantage of 340 W bulbs. You can also expect the area around the device to get warm once the machine is up and running. For the best results, keep this device at least 30 feet away from your home and away from areas that are used frequently by people.
It is Bright
Many people are surprised by the power of this device, as well as how brilliant the light it emits is. It is nothing like the low light outdoor mosquito control devices people are accustomed to. It is not designed for indoor use, and you would not want to put it outside of your window. The device can be mounted vertically or horizontally.
Leave it Outdoors 24/7
This is a well constructed device that is designed with high impact outdoor grade plastic. This means that the device can be left outside in inclement weather and you do not need to worry about it being damaged. The grill is chrome plated, which adds additional protection.
---
6. Stinger 1/2 Acre Flat Panel Zapper
Specifications
Dimensions: 10.7×4.7×12.1 Inches
Weight: 2.7 Pounds
Designed to Cover Half an Acre Area
Works 24 Hours a Day Seven Days a Week
Emits 15 W of UV Light
Will Fit Nosquito Octenol Lure to Boost Mosquito Attraction
Weatherproof Construction
PROS:
Lightweight. Since It Only Weighs 2.7 Pounds, the Device Can Be Hung Anywhere, Even on Small Tree Branches.
Weatherproof. The Product Is Designed to Be Tightly Sealed. When It Rains, You Do Not Need to Run out and Bring the Zapper inside.
Warranty. This Product Is Equipped with a Three Year Warranty, Which Is One of the Best Warranties for a Product of This Type.
CONS:
Lights Will Need to Be Replaced
The Product Has a Short Cord and Will Require an Extension Cord
Review:
While doing the research for this Stinger bug zapper review, we were impressed by the fact that even though this is a relatively inexpensive model coming in under $30, it is still a powerful tool that provides stellar results.
UV light Technology
The Stinger insect zapper lantern takes advantage of scientifically tested UV light technology. It can:
Attract mosquitoes within a large range
Lure them to the device
Electrocute them with its electric grid
When mosquitoes come into contact with the device, their death is quick.
Larger Killing Area
While the Stinger outdoor insect killer does share some characteristics with other devices of this type, its flat panel design provides it with a killing area that is up to 50 percent larger than other devices of its kind. And the unique grid design minimizes the chances of bugs clogging up the screen.
Durable/Versatile
This Stinger insect killer has been uniquely designed to function 24 hours a day seven days a week. This is one of the reasons why it ranks so highly on our insect zapper list.
Its sturdy construction makes it resilient and weatherproof. You do not need to think twice about leaving the device in the rain or in high winds. It is designed to stand up to both.
Although the device is designed to be a powerful mosquito killer on its own, it is made to work in connection with mosquito attractants that increase the zapper's ability to thin out the mosquito population.
---
7. Elucto Electric Bug Zapper Fly Swatter Zap Mosquito Zapper
Specifications
Dimensions 18.7 x 6.1 x 1"
Weight: 11.2 inches
Power Source Two AA Batteries
Made from High Quality Plastic with a Stainless Steel Grill
PROS:
Lightweight
Easy to Operate
Safe/Effective
AA Batteries Are Easy to Replace
Eliminates the Need for Toxic Bug Spray
Environmentally Safe
CONS:
Requires You to Manually Swing the Device
Replacing AA Batteries Can Become Expensive
You Can Electrocute Yourself If You Are Not Careful
Not Recommended for Outdoor Use during Inclement Weather
Review:
The Elucto Electric Bug Zapper is designed to allow you to forget about bug bites and have a good time with your friends outdoors or indoors. With this device, any bug that is bothering you will be zapped to death.
No Stun Setting
One of the problems that people have with other racket bug zappers of this type is that they just don't work. They might just leave the mosquito stunned, only a to allow them to get back up and fly around again. Not with this product. One swipe of the racket and their biting days are over.
The device is designed to be practical, and its goal is to kill mosquitoes in just one move. Regardless of if you swing forehand or backhand, the mosquitoes you touch die when they reach the electrically charged surface.
Indoor or Outdoor Use
These rackets are perfect for a barbecue or a cookout. You're able to keep yourself from getting bitten and keep your food safe at the same time.
Although its plastic design may give the appearance that this device is a toy, it is anything but that. It is a powerful tool that many professional exterminators use as they go about their tasks.
Easy to Use
One of the nice things about the device is that it has an easy to press on switch. When you hold down the switch, a green light turns on, letting you know that the racket is charged and ready for use.
The flyswatter operates using two AA batteries. As a safety feature, the racket will not transmit electricity unless the on button is depressed.
Guaranteed to Work
The Elucto Electric Bug Zapper is so good that its manufacturers offer a 30 day money back guarantee. They won't even ask why you are returning the product. They are that sure that it is going to work for you.
---
8. Dynatrap 1/2 Acre Insect Trap
Specifications
Dimensions: 10 x 10 x 12"
Weight: 2.85 pounds
Titanium Dioxide Coated Surface
UV Light Bulb
Whisper Quiet Vacuum Fan
Durable All Weather Construction
Protects for up to One Half an Acre
PROS:
Less Expensive Than Propane Traps
Does Not Have the Expense of Buying New Propane Tanks
Can Be Used Indoors or Outdoors
No Odor
Environmentally Safe
Safe for Use around Children and Pets
CONS:
Attracts All Flying Insects Not Just Mosquitoes
Must Be Mounted At Least 6 Feet off the Ground
A Range Shelter Is Needed If Used Outdoors
You'll Need an Extension Cord
Difficult to Empty the Tray without Letting Bugs Escape
Review:
In doing the Dynatrap review, one thing that just stood out was how awesome of a job this device did at providing mosquito protection for up to one half of an acre. After running the device for a couple weeks, you will notice a drastic reduction in the mosquito population in the area.
Like other models produced by this company, the Dynatrap 1/2 Acre Insect Trap belongs to a family of mosquito traps that have won awards for their inventiveness. In addition to catching and killing mosquitoes, this trap is perfect for anyone battling with biting flies, yellow jackets, stinkbugs, and a whole host of other insect pests.
Why This Product Works
As you read this and other Dynatrap reviews, something you're going to see time and time again is how this product benefits from a three-way mosquito protection design.
Phase 1
The first lure this product uses is a UV fluorescent bulb. Not only does this bulb generate light that attracts mosquitoes, it also generates warmth that simulates human breathing.
Phase 2
Next, the device produces CO2 as a result of the reaction that takes place between the titanium dioxide and the UV light. CO2 is produced in sufficient amounts that it attracts mosquitoes.
Phase 3
As the mosquitoes get close to the trap, they are swept inside by a powerful vacuum and are locked in a cage where they are left to dehydrate and then to die. Once a mosquito or other flying insect finds themselves in this trap, there is no getting out of it.
A Quiet Standalone Product
What makes this trap stand above and beyond its competitors is that it is quiet, you do not need to purchase an additional attractant, and it is able to produce CO2 without using propane.
---
9. Rechargeable Mosquito Wasp Bug Fly Zapper Electric Swatter
Specifications
Dimensions: 1.6×8.5×20.9 Inches
Weight: 12.3 Ounces
Three Layer Electric Grid
Safety Grid That Provides Multiple Layers of Protection
Rechargeable Built-In Battery
Built in LED Blue Light
Detachable Flashlight for Emergency Use
PROS:
Easy to Use
Sturdy Design
Built-In Safety Features
Provides 2500 V Zaps
Rechargeable
Doubles as a Flashlight
CONS:
Electric Grid Can Easily Short
Requires Manually Swinging the Racket for It to Work
Review:
The Aspectek's Electric Mosquito Fly Swatter is designed to kill mosquitoes on contact. Other mosquito rackets may simply stun a mosquito, allowing it to come back to life and continue biting. Not with this racket.
Large Powerful Swatter Mesh
One thing that sets this racket apart from others is that it has a larger than average swatter mesh and a stylish design. Unlike other rackets that only use two AA batteries, this rechargeable racket is able to produce up to 2500 V of electricity.
ABS Material/ LED Blue Light
Part of the sturdiness of the racket comes from the ABS material used in its design. It is not made from flimsy recycled plastic. A special feature on this racket is its built in LED blue light. This blue light can attract the mosquitoes to you, making swatting them a whole lot easier.
As an added bonus, the racket includes a detachable flashlight with three LED bulbs that can be used during an emergency.
Safety Considerations
This zapper is not a toy. Don't touch the outer wire net while it is charging. Avoid washing the racket with water as this can lead to some short-circuiting.
For more than 25 years, Aspectek has been making products like this racket. Their years of experience and attention to detail shines through in every facet of this product.
---
10. Sunforce 80050 Solar Mosquito Eliminator
Specifications
Dimensions: 7.3×8.1×4.3 Inches
Weight: 1.4 Pounds
Provides a High-Voltage Zap
Requires Two AA Batteries
Completely Maintenance-Free
Easy to Install
PROS:
Does Not Need an External Power Source
Works Indoors and Outdoors
Requires Little to No Maintenance
Inexpensive
CONS:
The Solar Power Charging Can Be Faulty
Not Waterproof, so It Cannot Be Left Outside
Many Complain That It Does Not Work as Advertised
Review:
The SunForce Solar is designed to provide you with a mosquito free environment without purchasing batteries or plugging your device into an electrical outlet. This device relies primarily on the power of the sun to provide the charge needed to destroy any mosquitoes that get near it.
Two rechargeable batteries can be used if there is an extended period of time without sun.
Use it Anywhere
It works outdoors or indoors. All it needs is direct sunlight. Some have placed the product on their lawn or in their garden. Others have placed it on a table because it looks ornamental. It has a hook that makes it easy to hang on a wall or to place in any location where you are dealing with a lot of mosquitoes.
Inexpensive, not Ineffective
This device is cheaper than other mosquito killers we have reviewed. It does not have a huge radius, but within its effective radius, it is powerful.
Do not Leave Outdoors
The SunForce is not waterproof. So it is not designed to be left outdoors during a storm. When it is not being used, it is best to store it in a dry place, preferably a place that has a lot of sun.
A nice feature of the device is that it has a ground spike. So if you do not want to hang it, you can stick it in the ground or install it in other locations.
---
What is the Mosquito Killer?
The answer to this question might sound self-evident. A mosquito killer is something that kills mosquitoes, right? Well, yes and no. In this review, when we refer to a mosquito killer, what we are usually talking about is a bug zapper or another electronic insect control system.
These systems work by first using some sort of lure, be it a chemical attractant, CO2, or light to attract mosquitoes to them. Once the mosquito is in their vicinity, they will use electricity to kill the bug.
The Mosquito Killers Eight Decade History
The first mosquito killer was thought to have been patented in 1934 by a man named William F. Folmer.
Since that time, these electronic mosquito control devices have seen a wide range of improvements in the lures that are used, as well as the safety features that have been added. However, with all of the modern updates, the basic design of an anti fly or mosquito machine has basically stayed the same.
Powerful Device, Simple Design
The first part of the design includes the housing that holds all the internal electric parts. The housing is made from plastic or metal that has been grounded. They come in a variety of shapes, ranging from a lantern to a big cube. The housing is equipped with a safety grid that prevents animals and children from getting electrocuted.
The second component in these devices is a light source. The light source ranges from ultraviolet light to fluorescent lights to neon lights, depending on the type of mosquitoes you are trying to attract.
Two or three wire grids that are connected to electricity are placed around the lightbulb, and these are what are used to electrify and eventually kill the insects.
Finally, there is a transformer device that provides the electrical charge to the wire mesh. There is often an audible buzzing sound when a mosquito is electrocuted by a mosquito killer lamp.
Types Of Mosquito Killers
It's easy to get confused when purchasing an electronic bug zapper. Some make the mistake of buying the first electric bugs zapper they see only to be disappointed by the quality.
Tennis Racket Bug Zapper
As its name implies, this electric fly zapper/mosquito zapper is shaped like a racket. It has an exterior plastic frame with either two or three electrified wire meshes.
These devices usually have an on/off switch in the handle of the racket. In order for these devices to work, you must manually swing the racket and hit the mosquito.
A Bug Light Zapper

This electronic mosquito killer uses a mosquito's natural attraction to UV light as a way to entice the mosquito to the device.
Once the mosquito is within the range of the electric insect killer, it comes into contact with an electric grid or mesh that kills it. Some of these devices will also use a chemical attractant to direct mosquitoes to the electric grid or mesh. Our reviews will help you to choose the best bug light zapper.
Solar Bugs Zappers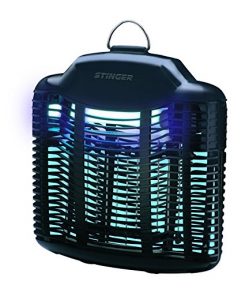 A solar bugs zapper is an electronic insect killer that relies solely on solar energy. The solar panel should be in moderate sunlight and usually requires an eight hour charge to power the UV bulb that attracts the mosquitoes.
When the mosquitoes come into contact with the wire mesh, they are greeted with a 300 V electric shock.
Bug Vacuum
A unique style of electronic mosquito repellent is the bug vacuum.
This electric bug repellent handheld device will suck in the mosquitoes that are flying around you, and then provide them with a high-voltage shock thanks to the electric grid built in its base.
Factors To Consider When You Buying A Mosquito Killer
Purchasing the best mosquito killer machine is an awesome investment. They protect you and your family from mosquito borne illnesses, annoying mosquito bites, and just having the irritating buzzing of mosquitoes as they fly around your head. There are some factors that you should consider when selecting the right to mosquito killer for your situation.
Effective Range
Purchase a device that is the right size for the area that you need covered. If you purchase a device that is too small, you may find that your home or other living areas are still infested with mosquitoes. If you purchase a device that is too large, you may find yourself spending money on electricity, large UV lights, and other accessories only to be providing mosquito protection for the entire neighborhood.
Take into consideration the climate where you live. Certain climates have more mosquitoes and will require a more powerful device.
Use of Attractants
Mosquito killers use a mixture of UV light and heat to attract mosquitoes. Some devices include chemical attractants that mimic the odors that are produced by our skin. These attractants do increase the effectiveness of the device. However, they need to be replaced frequently and can get quite expensive.
Price
When you look at bug zapper reviews, you see a wide range of prices. Some are under $20, and others cost in excess of $400. When you read mosquito killer reviews for inexpensive devices and compare those with the more expensive devices, you see that the two do not provide the same type of protection. Find a device that has a good quality/price ratio.
Safety
Electronic mosquito killers can use up to 5000 V of electricity to kill mosquitoes. The last thing that you want is for your child or your pet to become an electrocution victim.
A good device will have safety switches, safety grids, and other fail safes to prevent someone from being electrocuted.
Inside or Outside
Outdoor mosquito traps are not effective inside the house because of their size. Instead of repelling mosquitoes from your home, they will actually attract them.
Conversely, you would never want to put an inside mosquito killer outdoors. They are not designed to stand up to the elements.
If price is not an issue, your best bet is to purchase an outdoor mosquito killer. This is because they create a bug free environment around your house and inside your home at the same time.
Tips on Choosing the Best Mosquito Killer
As you can see from our mosquito killer reviews, there are a lot of options to choose from. And while one option may work perfect in a particular environment, it may not be the best bug zapper for your situation.
Consider the location. This includes calculating the total area that you want the zapper to cover.
Then ask yourself if you want to use the device indoors or outdoors.
If you are looking at using it outdoors, you need to make sure that the model you purchase is designed to stand up to inclement weather.
If it is not, then you may need to build an enclosure to protect it from the rain.
The larger the area you want to cover, the stronger the device you purchase should be.
Most bug zapper reviews recommended that you keep your device at least 15 m from your house and two meters off the ground. This will allow the device to create an effective barrier without attracting mosquitoes into your home.
Geography
It is good to consider the landscape where you are putting your device. You will want to consider the weather, as this will affect the
type of mosquitoes
that you have in your area and how frequently they will attack. If you live next to sitting water or if you have a lot of shade, chances are the number of mosquitoes in your area will increase.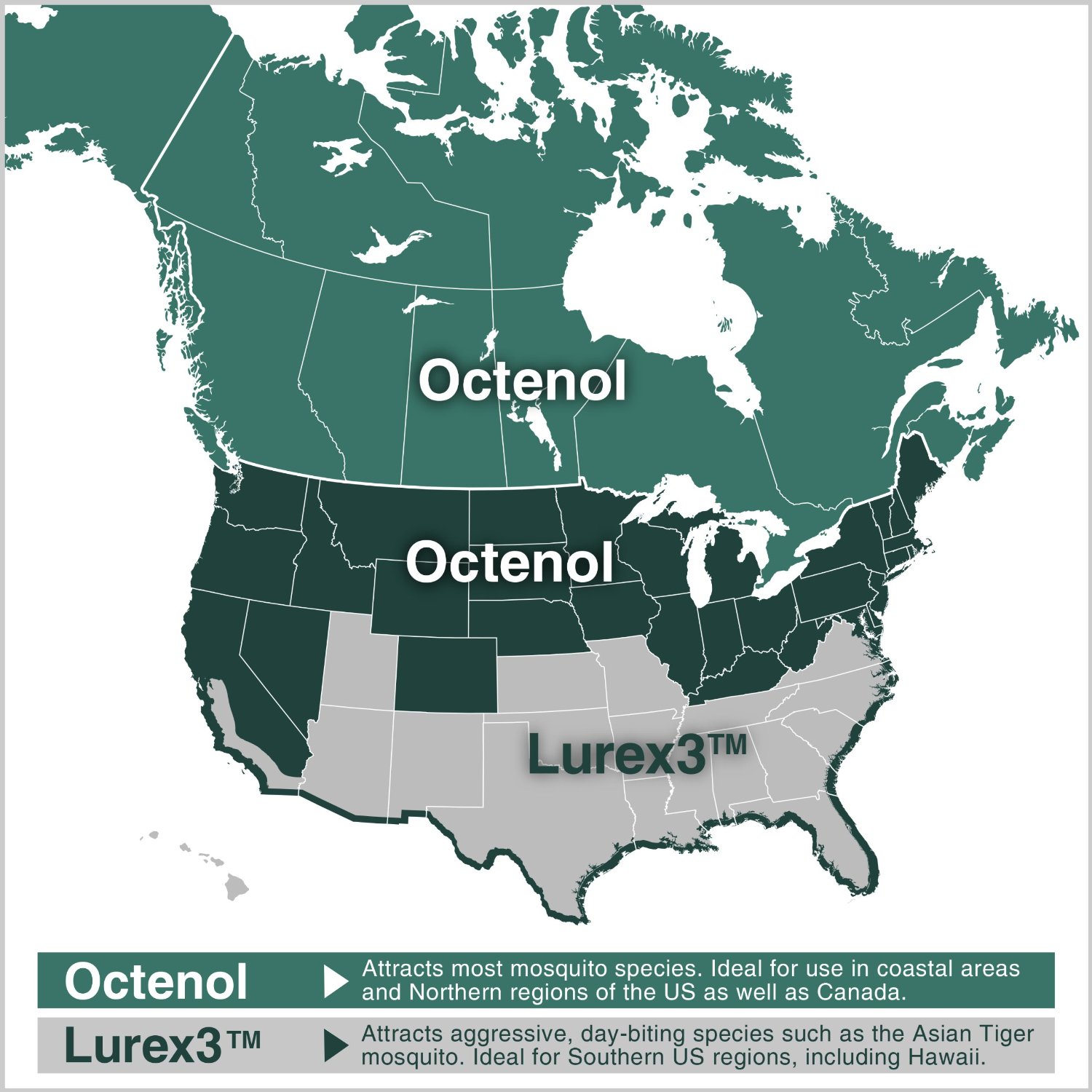 Wind Direction
As we mentioned earlier in our
mosquito killer reviews
, mosquitoes are terrible flyers. When they get caught up in a gust of wind, they do not have the strength to fight the wind and must travel wherever the wind pushes them.
Factoring in wind direction when placing your trap will improve the chances of you killing more mosquitoes. This is especially important if you are using a trap that uses a chemical attractant.
The Cost
If you are going to spend money on a mosquito killer, get a good one. While the initial investment maybe a little more, the long-term benefits are usually worth it.
Some additional costs include buying a new bulb, replacing chemical attractants, or replacing sticky bands. Bug zapper reviews are a great place to learn about the potential expenses.
A Device That Works 24 Hours a Day
Most bug zappers are designed to work day and night. However, when you read mosquito killer reviews, you see that they are more effective at night, especially if they use UV light.
So find one that is designed to work 24 hours a day to provide you with the best protection.
Mosquito Killer FAQ
"Is a Mosquito Trap Better Than a Mosquito Killer?"

A: Mosquito traps and mosquito killers are designed to produce the same end result, but through different means. A mosquito killer will use a combination of light and chemical attractants to kill mosquitoes using electricity. A mosquito trap will use a combination of CO2, heat, and moisture to attract mosquitoes and then trap them using a powerful vacuum.
The difference between the two devices is that the killer kills the mosquitoes on contact. However, the trap holds them in a net until they die from dehydration.
"

Is a Racket Style Mosquito Killer Worth the Money?

"
A: Millions of individuals around the world who use electronic rackets after reading bug zapper reviews would argue yes. They are very inexpensive, they are portable, and they only need a minor recharge or a pair of AA batteries to provide a powerful jolt of electricity to kill mosquitoes.
"

Are There Any Safety Concerns When Using a Mosquito Killer?

"
A: Mosquito killers are designed to provide up to 5000 V of electricity. These devices are not toys As long as the device is operated by a responsible adult and is kept out of the reach of children and pets, there are little to no safety concerns when using these devices.
Where to Buy Best Mosquito Killer Machine?
There are a lot of brick-and-mortar stores that sell one version or another of a mosquito killer. And while there is nothing wrong with purchasing these products from a brick-and-mortar store, there are a lot of good reasons to purchase them online from a retailer like Amazon.com.
Read Before You Buy
You are able to read reviews before you buy. This allows you to see how other individuals in your same circumstances reacted to a particular mosquito killer.
Steep Discount
Manufacturers will offer mosquito killer online discounts that you may not find at brick-and-mortar stores. Additionally, manufacturers will often release new models first on their own website and later offer them at brick-and-mortar stores.
And, best of all, when you order a product online, it is delivered directly to your home.
Making The Decision
The goal of these reviews was to provide you with all of the basic information you would need to make an informed and conscientious decision when purchasing a mosquito killer.
After looking at our bug zapper reviews, you will need to consider the location you are living in, whether you want the zapper to be indoors or outdoors, and how big of an area that you need covered. Or you've interested on the best mosquito racket.
Once you have that information clearing your mind, there is no need to delay. Hop online, and visit the manufacturer of one of the products we've reviewed. Or, go to Amazon.com and purchase a mosquito killer that is going to protect your family from deadly mosquito borne illnesses, irritating mosquito bites, and just the annoyance of hearing mosquitoes fly around all day.
You do not have to live with mosquitoes. A few weeks after you purchase one of the mosquito killers we've reviewed, you're going to be surprised at how much better your quality of life is. Your friends and family will comment on how your home, or your office, is a mosquito free haven thanks to your decision to buy the best bug zapper on the market.