Best Mouse Trap Reviews. Know More How To Catch A Mouse Easily
When there is one mouse, inevitably there are others. Mice are destructive, dirty, ugly, and spread disease. When you learn that you have a mouse infestation, your response may be to call pest control. That is problematic. Pest control companies are expensive. They take over your home and make living in it impossible. There's no guarantee they will remove the problem. You can deal with your mouse infestation on your own by using the best mouse trap on the market. This guide is designed to help you identify which model trap will work best for you.
We have looked at mouse trap reviews, done in-house testing, and have conclusively identified the mousetrap that will work. Don't just go out and buy a run-of-the-mill mousetrap. If you do, you will be disappointed. This guide will provide you with the information you need to make a conscientious decision when purchasing a mousetrap.
Best Electronic Mouse Trap Reviews
1. Rat Zapper Classic RZC001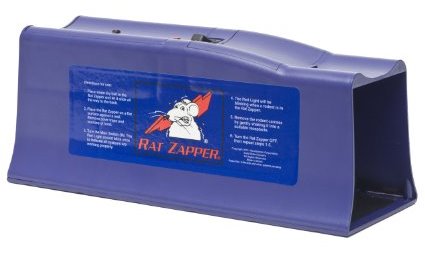 Specifications
Dimensions: 4.5×4.3×12 inches
Weight: 1.5 pounds
Requires for AA Batteries
20 Kills for Every Battery Change
Supplies 8000 V of Electricity for Two Minutes
Designated for Indoor Use Only
PROS:
Guaranteed Kill Every Time
Indicator Light Tells You When a Mouse Has Been Trapped
Dispose of the Mouse without Coming into Contact with It
No Chemicals Are Used
AA Batteries Do Not Need to Be Changed Frequently
Can Be Used in Residential and Commercial Building
Long Enough to Be Used for Rats with Long Tails
CONS:
As Battery Power Diminishes, the Effectiveness of the Device Also Diminishes
Needs an Indicator to Tell You When the Battery Is Getting Low
Review:
The Rat Zapper Classic is designed to effectively euthanize mice in a humane way. It uses a powerful electronic shock to kill mice instantly. It is very user-friendly. Simply insert the batteries, put out bait, turn the power on, and wait for pesky mice to meet their demise.
You are able to dispose of the dead mice without touching them. You can safely and in a sanitary way dispose of mice. There is no unwanted blood or fluids for you to clean up.
As with all the best mouse traps, you need to use caution. You do not want to use this trap around children or pets. That being said, you do not need to worry about poison or chemicals threatening the safety of your family with this trap.
This is the perfect option for your home or office. The 8000 V that are used in the Rat Zapper ensure that the rat or mouse is not stunned, but actually killed. Once the trap is triggered, the 8000 V will be delivered for two minutes.
This device is made for indoor use only. For the best results, it is recommended that you use the best mouse bait for the species of mice in your area.
A kill indicator on the top of the trap will tell you when a mouse has been killed so that do not need to constantly check the trap. The Rat Zapper is the best answer to the question: how to catch a mouse?
---
2. Victor Electronic Rat Trap M240
Specifications
Dimensions: 8.5 x 3.5 x 4.5"
Weight: 15.2 ounces
The Device Is Powered by 4C Batteries
Green Indicator Signals a Rat Has Been Killed
Red Indicator Signals Low Battery
Delivers 7000 V of Electricity
PROS:
High-Voltage Shock Delivers Immediate Kill
Easy to Place Bait
Easy to Empty
Kills up to 50 Rats Per Set of Batteries
Indicator Lights for Both Low Battery and a Mouse in the Trap
Reusable
Does Not Use Chemicals or Poisons
CONS:
Requires Battery Replacement
Only Works Indoors
Caution Must Be Used around Children and Pets
Review:
The Victor Electronic mouse trap is the best way to catch a mouse. Users appreciated it because it provides a humane way to eliminate unwanted pests. As opposed to snap traps that leave the mouse suffering for hours, the Victor Electronic rat trap kills them instantly by delivering more than 7000 V of electricity for two minutes.
The Victor multi-kill electronic mouse trap is powered by 4C batteries. When you put bait at the back wall of the trap, rats and mice are lured onto metal plates. Many argue that peanut butter is among the best mouse trap bait you can use.
When the mouse walks inside the trap, advanced circuitry senses the mouse's presence and humanely executes the pest.
The device is designed to kill up to 50 rats per every set of batteries you install. It is a poison free and chemical free solution to getting rid of disease spreading rodents.
The device is designed to be used indoors. Although it includes safety features, it is recommended that you use caution when using the device around children or pets.
You can easily dispose of dead rodents without touching them thanks to the trap's unique design. The trap is reusable and comes equipped with an indicator light that tells you when a mouse has been caught in the trap as well as when the batteries on the device are getting low.
---
3. Hoont Electronic Rodent Trap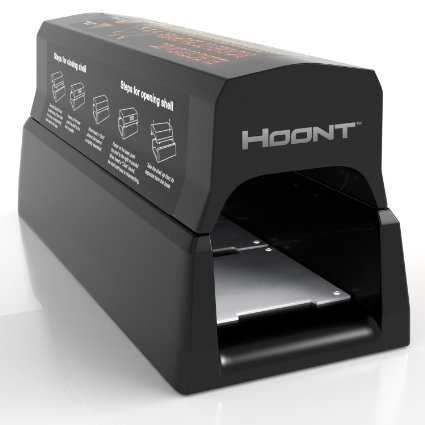 Specifications
Dimensions: 11.1×5.2×4.1 inches
Weight: 1.9 pounds
Powered by Plug-in Adapter or 4D Batteries
Light Indicates When Mouse Is in the Trap
Deliver 7000 V of Electricity
PROS:
Easy to Use Just, Plug It in and Let It Go
Powerful 7000 V Guarantees Immediate Kill
Advanced Rodent Detection Prevents Escape
Option To Plug-In or to Use Batteries
Safe to Use, Easy to Clean
CONS:
• Since the plates are laid out, the first metal plate being negative, the second being positive, and the third being negative, a small mouse might jump from one plate to the next without touching both plates at the same time.
Review:
As we were gathering information for our mouse trap reviews, we focused on mouse traps that were easy to use, electronic mouse traps that did not require you to touch the dead rodent, and most importantly we were looking for mouse and rat traps that work. By any standard, the Hoont Electronic Rodent Trap fits the bill.
This is one of the easiest to use electronic mousetraps on the market. It is flexible in that you can either use batteries or plug-in adapter. Then put the desired bait into the back of the trap and place the trap in the area where you have the most mouse or rat traffic.
The rodent detection technology identifies when a rodent goes into the trap, and it instantly and continuously delivers 7000 V of electricity.
This device is humane because it kills the rodent as quickly as possible. The initial shock stuns the animal, and so it feels virtually no pain.
This trap is versatile thanks in part to your ability to use batteries or to connect the 5 foot cord of the plug-in adapter. The benefit of using the plug-in adapter is that you have limitless kills.
If you opt to use the 4D batteries, you will get approximately 30 kills per set of batteries. Another nice feature is the plug-in indicator light. This light shows you when rodents are in the trap, without requiring you to actually bend over and look into the small spaces where you have stored the trap.
This device does not use poisons, and it does not use chemicals. You not have to worry about cleaning up blood or body fluids. Simply dump the device out into a trash bin, and then put the empty device back in its location and prepare for the next catch.
---
4. PestNoMore Rodent Zapper – Electronic Rat Trap
Specifications
Dimensions: 11×4.7×5.1 inches
Weight: 1.6 Pounds
Powered by 4D Batteries or an AC Adapter
Large Opening for Larger Rodents
Visual/Audible Alarms When Rat Is in the Trap
Three Shock System
Non-Magnetic Non-Rust Shock Plates
PROS:
Very Easy to Set up
Humane Instant Killing
Three Shock Killing System Prevents Rodent From Escaping
On and off Switch Safety Feature
Easy to Clean
CONS:
The Audible Alarm Continues to Sound Until You Disable It
The Design of the Bait Tray Allows Some Rodents to Eat the Bait Without Getting Electrocuted
The Power Cord Is Short and Will Require an Extension
Review:
Most would define the most effective mouse trap as a mouse trap that is humane yet kills rodents quickly. The PestNoMore Rodent Zapper accomplishes this goal using a combination of batteries or AC power. It has the ability to instantly kill rodents regardless of their size thanks to the high voltage shock it delivers.
A unique feature of this device is its triple shock feature. Some rodents have the ability to restart their heart after they have been shocked and escape. This renders devices that just provide one shock, albeit powerful, useless. The triple shock feature guarantees that any rodent that enters in the trap does not leave.
Designed for residential and commercial indoor use, this device is small enough that it can be put into the corners and cabinets in your kitchen, store, or restaurant.
The power adapter has a notification wire that will allow you to see if there is a mouse in the trap without bending over to look into the trap.
The PestNoMore Rodent Zapper prides itself on its three-step rodent control. It has a no see, no touch, no mess bait system. Simply put the bait at the back of the trap, turn the power on, and let it do its work.
The device has a larger entrance than other rat traps. It allows you to humanely kill larger rodents. The audible alarm notifies you that there is a rat in the trap.
This is the best mouse trap for someone who is looking for quality, efficiency, and a humane way to deal with a rodent problem.
---
5. The Raticator S-Plus Battery Powered Electronic Rat Trap / Mouse Trap
Specifications
Dimensions: 11.5×4×4.5 inches
Weight: 1.6 pounds
Power Source AA Batteries
50 Kills per Battery Set
PROS:
Long Battery Life
Easy to Clean
Indicator Light Blinks When Mouse Is in the Trap
Large Opening for Larger Rodents
CONS:
Replacing the Lithium Batteries Can Be Expensive
Makes No Audible Sound, So If the Trap Is Placed in an Inconspicuous Area, a Mouse May Be Dead Inside of It for Some Time and the Only Indication a Homeowner Has Is the Smell from the Decaying Rodent
Review:
The Raticator S-Plus is the humane answer to the question of how to catch a mouse fast. This electronic trap takes advantage of 4 AA batteries to deliver a powerful shock that kills mice every single time.
According to the manufacturer, the product can kill up to 50 rodents with just one set of batteries. If the device is in standby mode, it will function for up to six months.
A red indicator light on the top of the device will tell you when a rat has found its way into the trap. The device is easy to clean up and does not use poisons or chemicals. This makes it safe for your family, your pets, and the environment.
The unique design and discrete profile allows you to put the device in any part of your home or office without it being noticed.
The device comes in three different varieties, including one that has Bluetooth reporting and one that has an infrared detection system.
---
Best Snap Mouse Trap Reviews
1. Snap-E Mouse Trap (6 Pack)
Specifications
Dimensions: 3×6×8 inches
Weight 0.54 pounds
Plastic and Steel Construction
Uniquely Designed Bait Cup
Vertical Strike Bar
Easy Release, Allowing You to Dispose of the Dead Rodent without Needing to Touch It
PROS:
Extremely Effective Rodent Killing Machine
Vertical Strike Bar Means a Quicker Reaction Time
Plastic and Metal Design Prevents Odor Accumulation and Staining
The Larger Than Average Trip Paddle Catches Rodents from the Front, Side, and Back
Based on the Time-Tested Traditional Snap Trap Design
Can Be Reused for Many Years
CONS:
Unlike Electric Rodent Killers, This Manual Device Will Produce Blood and Gore That Will Need to Be Cleaned
You Will Need to Visually Inspect the Trap To See If There Is a Dead Rodent
The Trap Can Be Triggered by Children or Pets and Is Powerful Enough to Cause Severe Pain and Damage
Review:
The Snap-E mouse trap ranks high in most mouse trap reviews because it is a modern take on a classic mouse trap design. Snap traps have been used for decades because they are rat traps that work. The Snap-E mouse trap has a quick response time.
One of the improvements in this trap is the bait cup. It makes it easier for you to put the bait in the trap, and it makes it less likely that the bait is going to roll off the trap or to be blown away.
The device is equipped with a vertical strike bar. Its unique design means that it only travels half of the distance the strike bar on a traditional snap trap would have to travel. This means it gets to its in destination quicker and delivers the mortal blow before the rat or mouse has the option to escape.
The trap is comprised of a combination of steel and plastic. This has another upgrade from traditional traps that are made of wood. Stains and odors do not accumulate on the trap.
The device is easy to use because once the trap has been triggered, all you need to do is release it, eliminate the rat, and then reset the trap.
---
2. Victor Easy Set Mouse Trap M033 (12 Pack)
Specifications
Dimensions 0.7×4.3×7.3 Inches
Weight: 3.5 3.5 Ounces
Powerful Killed Bar
Pre-Baited with Synthetic Bait
Built-In Safety Switch
Reusable
Can Be Used Indoor and Outdoor
Requires No Batteries
PROS:
Inexpensive
Time-Tested and Effective Design
Reusable
Indoor and Outdoor Use
Comes with Artificial Bait
CONS:
Artificial Bait Not Always Effective and May Require the Use of Real Food As Bait
Trigger Is Exceptionally Sensitive and You May Have a Bunch of Misfires
Potentially Dangerous to Pets and Children
The Wood Base Will Stain after Each Kill and Will Accumulate Disgusting Odors
Review:
The Victor Mouse Trap is what most people think about when they think of a traditional snap mouse trap. It has the wooden base and a metal U bar. It is designed to effectively kill any mouse that goes for the bait and triggers the release mechanism.
There are some features to this rodent trap that do set it apart from traditional traps. Primary among these is the no bait required feature.
The device comes equipped with a piece of scented plastic. The scent is designed to attract mice and rats. It is designed to have the look and the shape of Swiss cheese.
Mouse trap reviews are split on whether or not these types of bait free traps work. Some argue that the Victor Easy Set Mouse Trap will attract mice and at least put them in a position where they can be killed by the trap. Others argue that without real food as a bait, a mouse might get close to the trap and smell it, but it is unlikely that the rodent would be so curious as to trigger the trap.
A good selling point about this trap is that they are inexpensive. For the price of one expensive model snap trap, you can purchase four or more of the Victor Mouse Traps.
These traps are the most effective when you lay out a bunch of them over the area where you are having a rodent problem.
A challenge with this trap is setting it so that the trigger is sensitive enough to go off when a mouse touches it, but not so sensitive that a stiff breeze sets it off. Finding that perfect balance has proven to be a challenge for some.
---
3. Victor Original Mouse Trap (8 Pack)
Specifications
Dimensions: 1.1×5.3×6 inches
Weight: 0.45 pounds
Wood Base
Snap Trap Wire
Reusable
Requires Bait
Does Not Use Electric or Battery Power
PROS:
Time-Tested Design
Effective Killing Machine
Easy to Set up
Easy to Bait
Can Be Used Indoors or Outdoors
Inexpensive
Reusable
CONS:
The Wooden Base Will Stain with Blood and Gore from the Rat or Mouse
May Be Difficult to Clean and May Retain a Foul Odor
May Not Kill the Mouse Immediately. You May Watch It Suffer until It Dies
Traps Need to Be Checked Daily to Prevent the Rodent Carcass from Attracting Insects or Scavengers
Can Be Triggered by Playing Children or Pets
Review:
The classic design that is seen in the Victor Original Mouse Trap is believed by many to be the best mouse trap design available. It is a traditional design with a wooden base and a metal strike bar. It is the design that has been used successfully for decades.
One of the benefits of this classic mouse trap is that it is easy to use. Safety features make it so that you can use it around children and pets.
Individuals who pride themselves on buying things made at home will be proud to know that this trap is made in the USA.
Unlike electronic traps and other traps that require you to look inside to verify that the rodent has been trapped or killed, the classic design of the Victor Original Mouse Trap provides you with visible proof that the rodent has been captured and that it is dead.
When a mouse walks into the trap, it triggers a metal pedal. Immediately the strike bar is released, and it kills the rodent on contact. With a few simple movements, you can clean the trap and remove the dead rodent.
This trap does not require the use of chemicals or poison. This makes it safer for use around children, pets, and other non-rodent wildlife.
---
4. Premium Quality Mouse Trap Set to get rid of Rats, Mice & Rodents (4 pack)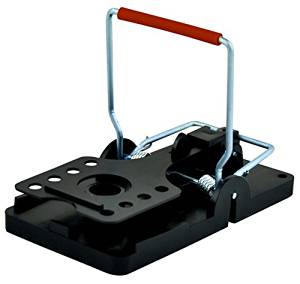 Specifications
Dimensions: 5.8 5.8×3.13.1×2.6 Inches
Weight: 3.5 Ounces
ABS Plastic Design
Industrial-Strength Steel Trigger Bar
Lifetime Guarantee
Heavy Duty Construction
PROS:
Sturdy Design
ABS Plastic as Opposed to Metal
Powerful Trigger Bar
Ingenious Bait Placement
Sensitive Trigger
Ability to Kill Large and Small Rodents
CONS:
The powerful triggering mechanism means that if children or if pets are caught in the device, they could be seriously injured. It is best to place these devices in areas where children and pets cannot get at them.
Review:
The Premium Quality mouse trap produced by PestExpel is a heavy duty mouse killing machine. It uses state-of-the-art next-generation technology and is built from premium grade ABS plastic and industrial-strength steel.
It is heavy, and it is designed to be rigid and sturdy. Mouse trap reviews verify that this trap can catch rodents that are either too big or too cunning for traditional traps.
The lifetime guarantee provided by PestExpel for this product sets it apart from its contemporaries. This company is so confident in the effectiveness of their product that they offer customers a lifetime guarantee for a no hassle refund.
Another unique feature is the cantilever trigger mechanism. This allows the trigger to go off the instant a mouse comes in contact with the device. The trigger has been uniquely placed above the bait at just the right height to allow a mouse to easily trigger it.
Its ABS plastic design makes it resistant to stains and orders. You simply wash it off, reset it, and it's ready to be used again.
It is an effective trap because of its unique design and size, which allows it to handle both large and small rodents, its uniquely created operating mechanism, and the sensitivity of the handle. Add on the bait location and you have a trap that is perfectly made to eliminate your rodent infestation.
---
Types of Mouse Traps
Whether you live in a city apartment or in a country home with a mouse problem, mouse traps are a necessity. Mice are unsightly, eat your food, leave droppings everywhere, and create unsanitary conditions.
The following is a review of different styles of mouse traps. We will discuss the trap style and then the pros and cons for each style.
Electronic Mouse Traps
Electronic mouse traps are the best mouse traps to use you can buy. The mouse trap instructions for these devices are usually very simple. You add a battery, or you plug the device into an outlet, add bait like peanut butter, and let the trap go to work.
As their name implies, these traps kill using electricity. Some models produce in excess of 8000 V.
Special Features
Some electronic mousetraps produce a prolonged electric shock, lasting upwards of two minutes. Others feature a multiple shock approach, guaranteeing that the rodent does not restart its heart and escape after the initial electric jolt.
Electronic mousetraps feature LED indicators that tell you when a mouse is in the trap or when the batteries are losing their charge.
A nice feature of an electronic mouse trap is that you do not need to touch the dead mouse to dispose of it. And since electricity is used to kill a mouse, there is no blood or gore to clean up.
It is a humane yet effective way to get rid of unwanted pests.
PROS:
Effective
Easy to use
Does Not Produce Blood and Gore
Does Not Require You to Touch the Dead Rodent
Very Humane
CONS:
Requires Expensive Battery Changes
Become Less Effective as the Battery Loses Charge
You Will Need to Look Inside the Trap to Verify That a Rodent Has Died
May Only Shock but Not to Kill the Mouse or Rat
Traditional Traps
Traditional mousetraps have often been referred to as snap traps. This refers to the sound the trap makes when it is triggered. These traps have been used for more than a century.
These traps are identified by the square base, usually made out of wood, and the trigger mechanism, usually made out of metal or a hard plastic.
How They Work
Mice are lured to the trap using a variety of baits from cheese to peanut butter. When a mouse reaches the platform, a U-shaped bar slams down on the wood or plastic platform with sufficient force to trap and kill the mouse.
Traditional traps produce by companies like Victor are so popular that everyone knows how to set a Victor mouse trap without reading the instructions.
PROS:
Inexpensive
Effective
Reusable
Easy to Use
CONS:
The Mouse May Suffer as It Dies
Wooden Platforms Can Stain and Start to Stink
You Will Have to See and Come in Contact with the Dead Mouse
Live Catch Traps
These traps are designed to catch multiple mice at the same time. The bait causes the mouse to come into the trap, but it does not kill them. Once the mouse enters the trap, it cannot escape.
This style of trap is perfect for individuals who are looking to capture a rodent and relocate it. The Catchmaster mouse trap or the Havahart mouse trap are good examples of this mousetrap style.
PROS:
Capture Multiple Mice with One Trap
Does Not Use Poison or Chemicals
Is Not Dangerous to Pets or Humans
A Humane Way of Disposing of Mice
CONS:
Live Traps Require You to Relocate the Rodent or Kill Them in Another Way
When Rodents Are Captured in a Live Trap, They Move around and Make A Lot Of Noise That Can Be Disturbing, Especially at Night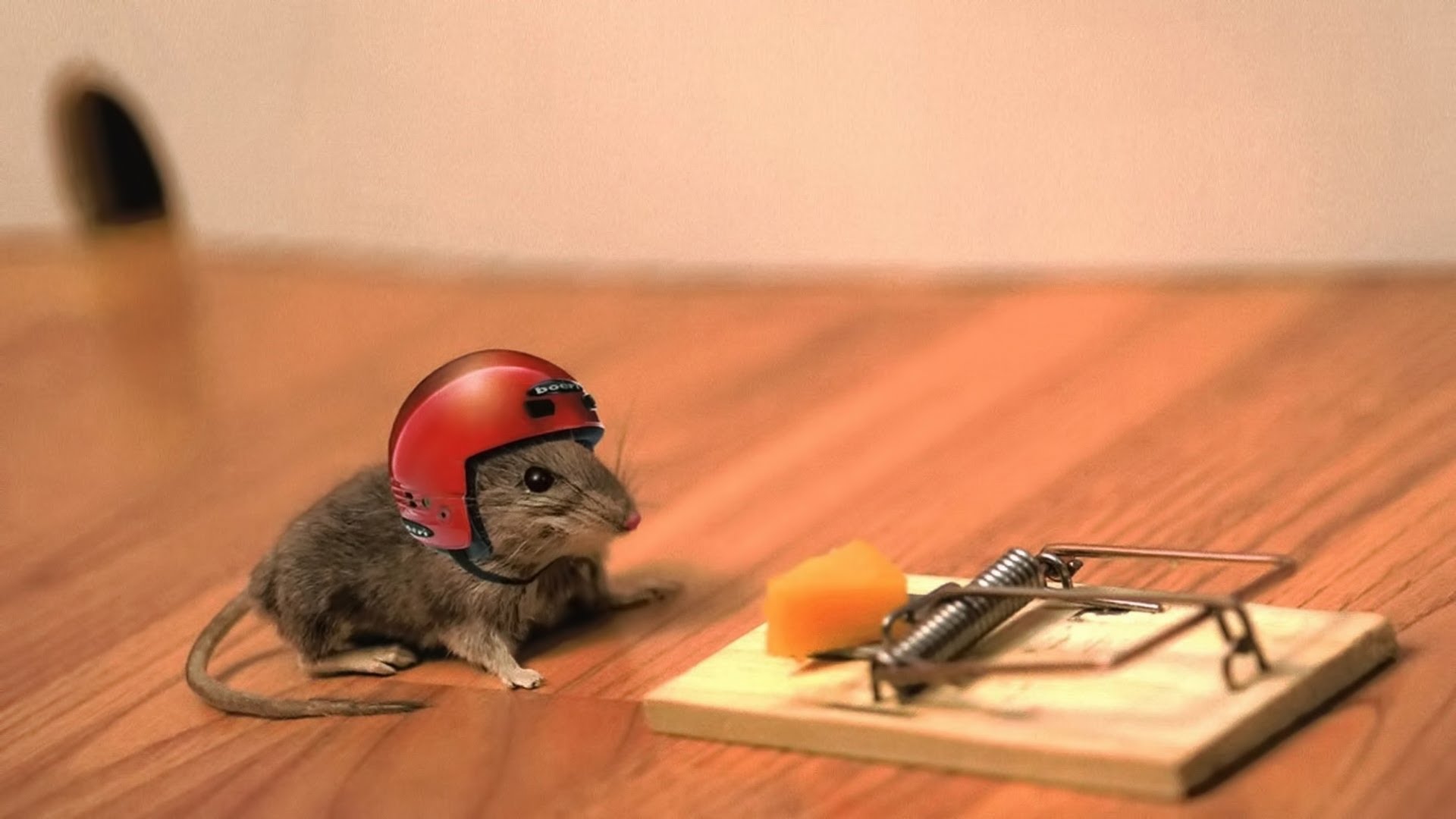 Glue Mousetraps
These traps are boards or trays that have a very sticky glue on them. The glue has a scent that attracts rodents. Once the mouse or rat is on the trap, it cannot get off. Any attempt to escape makes it stick even more to the trap.
A good brand to consider when thinking about this type of trap is Catchmaster glue boards.
PROS:
Effective
Inexpensive
Discrete and Can Be Put in Hard-To-Reach Places That Mice Frequent
CONS:
Does Not Kill the Mouse Immediately, So You May Hear It Squeal and Try to Free Itself
Larger Rodents That Are Stuck to the Trap Can Drag the Trap to a Different Location, Making It Difficult to Find Them
Rodent Bait Station
These are stations that are used to hold poisoned rat bait. The rat will ingest the poisoned bait then be able to escape the trap. It will slowly die as it goes back to its home. The Protecta Sidekick is a good example of this type of trap.
PROS:
Mouse Dies Away from the House
No Blood or Gore to Clean up
Effective on Multiple Rodents
CONS:
The Poison Used in the Bait Could Be Dangerous to Animals and Children
Mice Might Die Inside the Walls or Hidden Underneath Heavy Objects. It May Be Difficult to Find Them, and You Will Be Left with the Unpleasant Smell of the Decaying Carcass
How Does An Electronic Mouse Trap Work?
While each brand of electronic mouse trap has its own special features, they all work using the same basic principles.
Electronic mouse traps use batteries or an AC adapter for power. They have one entry point that mice can use to get into the tunnel.
Preparing the Trap for Use
Before setting the trap in place, you will need to insert bait into the back side of the trap. The bait you use will vary depending on the type of rodent you are looking to catch.
Triggering the Trap

When the mouse smells the bait, they will walk into the trap's tunnel. As they step inside, they activate the first metallic electronic sensor plate. This usually has a negative charge.
As the mouse moves closer to the bait, they step on the second metallic sensor plate that has a positive charge. Now the mouse's body completes the circuit and the trap delivers between 7000 or 8000 V of electricity, instantly killing the mouse.
When the circuit is complete and the mouse is electrocuted, most electric traps have an LED light or an audible buzzer that signals the mouse has been electrocuted.
Special Features
Some traps, such as the Victor Electronic Trap, have a rotating axis on the floor that automatically rotates and drops the dead mouse into a storage container, and then rotates a backup so that it is ready to claim its next victim.
Other traps will use a multi-jolt system. After the initial jolt is given, two or three more bursts of electricity are given to guarantee that the rodent is dead.
Some devices are designed to deliver a continuous jolt of electricity for up to two minutes.
To get the best result from your electronic trap, place it up against a wall. Also, check the LED display to guarantee that the device's batteries are fully charged.
How To Set An Electronic Mouse Trap?
The success you have with an electronic mouse trap will depend on you knowing how to set a mousetrap. The steps you take setting a mouse trap will vary slightly, depending on the product you purchase. However, the following steps will give you an overall feel of how to set up a mouse trap.
Remove the cover for the battery tray and insert the appropriate number and size batteries. Then replace the battery cover.
Open the lid on the trap and insert bait that is appropriate for the type of rodent you are looking to catch. In most traps, the bait trough is located toward the rear of the device.
The best bait to use is something that is high in protein, such as chocolate, peanut butter, or a hazelnut spread.
Use a utensils, such as a toothpick, a fork, or a knife, to put the bait into the trap. This prevents your scent from being transferred onto the bait and scaring the rodent away.
Next, close the lid on the trap.
Find an area where you have seen rodent activity and put the trap along the wall in that area.
Guarantee that the trap sits lengthwise against the wall and have the entrance hole closest to the wall. This is because rodents will usually run along a wall as they travel.
Turn on the trap. You should see a LED indicator that the trap has been turned on.
Daily check the device to see if you have trapped any mice. Most electronic mousetraps have an LED indicator telling you that a mouse is in the trap.
Although some traps are designed to hold up to 10 mice, it is recommended that you frequently check and empty the trap to keep your trap clean and sanitary.
If you do not catch mice after the first night, recheck the area where you placed your trap. Most mice do not travel more than 30 feet between their food source and home. So if your trap is not in the right location, it won't work.
Depending on the style of your trap, you may need to add a little bit of bait to the entrance of the trap to attract more rodents, or you may need to use a multi-pronged approach, including snap traps and other forms of traps to get the results you want.
How To Set A Snap Mouse Trap?
Just about everyone thinks they know how to set a mousetrap. Traditional mousetraps, like the Victor Snap Trap, have been around for more than a century. They have a pine base, a coil spring, a flat trigger plate, and a metal U bar that slams down to trap the mouse.
As professional exterminators realize, a snap trap is only as good as the location it is placed in and the way it is set up. The following are some pointers on how to set a mouse trap.
How They Work
The U-shaped bar should be pulled back and locked into the small rod that sits on the trigger plate. When the trigger plate is disturbed, the holding rod is released, and the bar slams into the pine base with tremendous force.
It's All about Location
Mice cannot see well. They use a combination of body hair and whiskers to guide them as they run along the baseboards of your home.
If you put a snap trap in the middle of the floor, a rodent will ignore it. However, if you place it perpendicular to the wall, that is so that the head of the trap and the wall form a T, you will see a drastic increase in the number of mice and rats you catch.
Proper Placement Is Key
When setting a mouse trap, the goal is for the mouse to be able to activate the trigger whether it is running from the right or whether it is running from the left. Since the mouse is running along the wall, you want the trigger to be facing the wall.
Mice have good memory. If you incorrectly place a trap, the mice will remember that and will avoid the area in the future. Proper placement means that the rodent comes in contact with the trap one time, the last time.
Factors to Consider When You Buying an Electronic Mouse Trap
Electronic mousetraps work when you understand the way rats think. For example, rats learn. They learn where they can get bait from, and they learn areas to avoid. Consider buying a higher-end and expensive electronic mouse trap compensates for this.
To get the best results out of your electronic trap, consider leaving it off for a couple of days with food inside of it. Let the rats and mice in your home get used to getting free goodies from the trap. Then turn it on, and you will be surprised by the results.
Energy Usage
Electronic traps are powered by batteries or by an AC adapter. They work their best when the batteries are fully charged. Although the packaging says 30–50 kills per battery change, most agree that the number is usually around 10–15 kills per battery change. For this reason, you may want to consider purchasing one with the AC adapter option.
If the batteries are fully charged, the trap should kill the rodent immediately. If not, it may just stun the rodent, stopping its heart just long enough for the rodent to restart it again. Consider purchasing rechargeable batteries to minimize the expense.
Worth the Price
These units are more expensive than traditional snap traps, but when used correctly, they more than make up for it. They provide an effective and clean kill. Something else to consider when thinking about the price is that since they do not use poisons, they are a safe option if you have pets or children.
Additional Things to Consider
Safety. A good trap should have tunnels that make it difficult for children or pets to stick an appendage inside and get electrocuted. Even if they can stick their hands inside, a well-made mechanism should have safety features that prevent them from getting electrocuted.
Off and On Switch. You want a trap that has an off and on switch, as this will allow you to safely bait the trap without fear of accidental electrocution. Additionally, when you open the lid to the trap, it should automatically kick into a safety mode that prevents accidental shock.
Some Maintenance Required. These devices are designed to last for multiple years. However, they do require that you periodically clean out the bait that you use, as well as keep the metal plates clean and free of dust. Consider purchasing a device that allows easy access for cleaning.
Electronic Mouse Traps FAQ
"How Should I Bait the Trap?"

A: First, make sure that the trap is off. Put the bait toward the rear of the trap. It is recommended that you use gloves or that you apply the bait using a utensil. This way, your scent will not be transferred to the bait. While peanut butter is a good bait option for most traps, when used in electronic traps, it can interfere with the electronics and cause the system to trip prematurely on some models.
"

What Precautions Should I Use When Cleaning the Trap?

"
A: Some precautions to use when cleaning the trap include: • Turn the power off, unplug the device, or remove batteries. • Use a shallow yet disposable receptacle and fill it with a little bit of warm water. • Use unscented detergent and immerse the trap for up to one hour. • Flush the bottom of the trap with water, and be careful to not get the upper part of the trap wet. • Allow the device to air dry. • Replace the batteries and use the device as normal.
"

Should the Device Be Used Outdoors?

"
A: No. These devices are designed for indoor use only. If it is used outside and exposed to the elements, it could short out due to the weather.
Where to Buy Best Mouse Trap?
When you take into consideration the detrimental effect mice have on your home and your family's health, the value of a good mouse trap becomes clear.
Buying from a Retail Store
While there are some advantages to purchasing a mousetrap from a brick-and-mortar store, such as being able to discuss with a salesperson the best mousetraps to buy, there are even more reasons to purchase a mousetrap online.
Getting Detailed Information When Purchasing Online
First and foremost, the sales people at retail stores usually have a little bit of knowledge about a lot of products. Conversely, if you purchase a mousetrap online and ask other individuals online what are the best mousetraps, you're going to get a wide range of answers from people who really know their stuff.
You are able to speak with experts, as well as individuals who have used the product that you are considering purchasing. You walk away with a clear idea of what are the best mouse traps for home for your situation.
Where to Buy Rat Traps Online
However, even if you opt to buy online, you have a lot of options to choose from when it comes to where to buy mousetraps. One popular online distributor is Amazon.com. People love using Amazon because the service is reliable, the reviews provided by customers are trustworthy, and Amazon delivers in an efficient and timely way.
Amazon offers great discounts on the products they sell, at times providing better discounts than the manufacturer.
That being said, there are some benefits from ordering the product online directly from the manufacturer. Some warranties are only offered when the product is purchased from the manufacturer online. Additionally, new products are offered first at a manufacturer's online store and then later at distributors like Amazon.com.
Making The Decision
The question is: what is the best mouse trap to buy? Hope we answered this question.
Rodent infestations pose a real and imminent danger to your home. They have been responsible for some of the most serious plagues and pandemics on the planet. They are destructive, they are dirty, and it is just embarrassing to have a rodent run out in the middle of your living room while you have guests in your home.
Throughout our review, we have provided you with an unbiased look at some of the electronic and snap trap style rodent killers that are currently available. We have laid out the pros and cons of each of the best mouse traps for home.
Our Goal
Our goal was to provide you with a basic understanding of how they function, how they should be used, and what steps you can take to get the best result from these rodent killers.
Now, the ball is in your court. Do not to let another week go by with the rodents running free in your home or in your office.
Your Choice
We invite you to take some time to weigh the options we have presented. Consider factors such as the price, the size of the area you want to cover, as well as the different features the products we have presented offer.
Doing additional research is not a bad idea because the more informed you are, the happier you will be with your end purchase.
Rodents have been plaguing mankind since the beginning of time. They are not going to go away on their own. If you want to keep your home or property rodent free, you must take action. Hop online and purchase a rodent trap today.