Best Mosquito Trap Reviews. Propane, CO2 and Electric Traps
Malaria, Chikungunya, Dengue, Yellow fever, West Nile, and Zika virus are infirmities transmitted by mosquitoes. These painful, debilitating, and sometimes fatal diseases are now in the United States, Canada, and Europe. According to the American Mosquito Control Association, mosquitoes cause more human suffering than any other organism. Even if you live in an area that is not currently affected by life-threatening mosquito borne illnesses, being bitten by mosquitoes is annoying and having mosquitoes in your home at night can make sleeping almost impossible. You need the best mosquito trap available to protect you and your family. The following mosquito trap reviews will provide you with the information you need to make a conscientious buying decision.
Best Mosquito Trap Reviews
1. Mosquito-Magnet-MM4200B
Specifications
Dimensions: 17.2 x 22.55 x 16"
Weight: 22.15 pounds
Patented Catalytic Converter that turns propane into carbon dioxide, heat, and moisture
CounterFlow Technology attracts mosquitoes
Silent and Odorless
All Weather Performance
Self-Contained Netting
50 Foot Power Cord
One Year Warranty
PROS:
Easy to Set up
Easy to Clean
Silent Running
Odorless
CONS:
It's Difficult to Move
Propane/Attractant Cartridges Need to Be Replaced Frequently
Requires Two Power Sources Electricity/Propane
Requires Annual Maintenance
Review:
The Mosquito Magnet® Patriot PlusTrap is easy to operate and set up. It is the end result of more than 20 years of research and innovation.
With more than 15 patents behind it, the Mosquito Magnet will decimate mosquito breeding cycles. For this reason, it is first on our list of mosquito magnet reviews.
Product Construction
The product is built from strong plastic and marine grade materials. It is guaranteed to work in harsh environments.
It can protect up to an acre of land. This device is perfect for use in your backyard or any other outdoor setting.
Iron Clad Guarantee
The product is backed by a 360 customer support program. In the unlikely event of a defect or if you have questions about the product, you are guaranteed 100 percent support.
Self-Contained Rigid Net
Thanks to a large, self-contained insect net, this propane mosquito trap performs at maximum capability longer than its predecessors. The larger net minimizes the how frequently it needs to be emptied.
The net's unique design means you are able to replace it without touching yucky dead insects. For maximum performance, it is recommended that you change the net once every three weeks.
Long Power Cord
Equipped with a 50 foot 12 V power cord, you can plug the Mosquito Magnet into your home's power supply, yet place the device far away from your patio area.
Lawn clips secure the cord to the ground, mark where your cord is running, and prevent your guests from running over it or tripping over it.
Attracting Mosquitoes
The Mosquito Magnet attracts mosquitoes by converting propane to CO2. It adds heat and moisture to attract mosquitoes to the area. A vacuum sucks then the mosquitoes into a net where dehydration leads to their death.
---
2. Blue-Rhino-SV3100-100
Specifications
Dimensions: 24.9×12.1×31 inches
Weight: 19 pounds
CO2 rating 27,000 cc /per hour
One Year Limited Warranty
Odorless
Coverage Area: 1 acre
Runs Silently
PROS:
Well Constructed and Sturdy Design
Uses a Combination of CO2/Sticky Paper to Catch Mosquitoes and Other Insects
Easy to Set up
Cordless/Generates Its Own Electricity
Effective
CONS:
Replacing Propane Tanks Can Be Expensive
The Tac Trap is indiscriminate and May Catch Lizards and Birds Looking to Eat the Insects Stuck on It
It Can Be Difficult to Light the Ignition and Keep It Burning
Review:
The SkeeterVac Eliminator SV3100 by Blue Rhino is a high-quality mosquito vacuum. With its sleek design and black and white exterior, this mosquito machine will fit perfectly in your backyard or at your next outdoor event.
Coverage Area/RunTime
It covers a one acre area. It can run for hours without overheating or burning out. Its unique design makes it an effective weapon against mosquitoes and other insects.
Attracting Mosquitoes
The Blue Rhino device turns propane into CO2 gas. It effectively tricks mosquitoes into thinking that there is a large quantity of humans in the area.
Once the mosquitoes have been lured into the vicinity of the trap, a combination of suction and sticky paper traps the mosquitoes and does not let them escape.
Fully Adjustable
You can adjust the amount of CO2 the Blue Rhino emanates. This allows you to fine tune the trap to attract mosquitos native to your area.
This is a key feature, especially if you live in an area where a particular species of mosquito is known to carry in mosquito borne disease.
Getting the Most Out of the Trap
The Blue Rhino is not an indoor mosquito trap. For best results, place it in a shady area that is likely to attract mosquitoes.
The device comes equipped with a rain cove that prevents severe weather from damaging the trap. You should expect to see a reduction in the mosquito population 30 days after installing the device.
This device is not a mosquito repellent. It attracts and kills off entire mosquito populations.
---
3. Dynatrap DT2000XL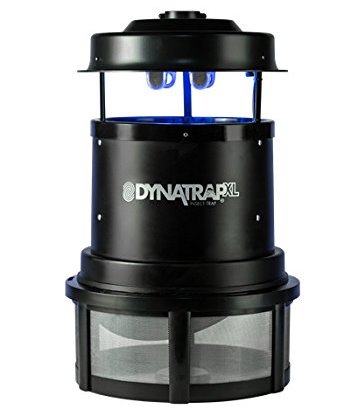 Specifications
Dimensions: 13×13.2×16 inches
Weight: 10.6 pounds
UV Fluorescent Bulbs with a Life of 3000 Hours or 4 Months
Powerful Vacuum Fan
Titanium Dioxide Case
Designed to Function 24 Hours a Day Seven Days a Week
Runs Silently and Is Odorless
Durable Construction
PROS:
Less Expensive Than Devices That Require a Propane Tank
Catches a Variety of Flying Insects in Addition to Mosquitoes
For Use Indoors or Outdoors
Safe for Pets and the Environment
Runs Quietly
CONS:
Catches a Variety of Flying Insects in Addition to Mosquitoes, Some of Which Can Be Beneficial
Needs to Be Mounted 6 Feet off the Ground
If Used Outdoors, Will Need Additional Rain Shelter
Some Bugs May Escape When You Clean the Capturing Cage
Review:
The Dynatrap DT2000XL creates carbon dioxide to attract mosquitoes. It traps them, and it prevents their escape. The Dynatrap DT2000XL is not a propane mosquito killer.
The device works by using a light to produce warm ultraviolet rays. Underneath the light there are openings where mosquitoes and other bugs can fly in.
The fan's current sucks them into a retaining net below. Once inside, they can't get out, and within the day they are dead.
More Than Light Is Needed
Light and warmth are just part of the mosquito trapping equation. Mosquitoes find their victims by searching for carbon dioxide and the vapor trail that their victim leaves behind.
The Dynatrap DT2000XL has a funnel that sits above the fan that has been coated with titanium dioxide. When the ultraviolet light from the lamp comes in contact with the titanium dioxide, a photocatalytic reaction happens and the result is carbon dioxide.
Mosquitoes are attracted to this device in the same way they are attracted to an electronic mosquito trap that uses propane to create carbon dioxide.
An Inexpensive Alternative
A propane based electronic mosquito trap is an effective way to catch mosquitoes. However, expensive propane canisters need to be replaced every few weeks.
Most propane mosquito traps require you to be connected to your home's electricity supply, so you're paying for two sources of energy to get the device to work.
With the Dynatrap DT2000XL, all you need is an electrical connection, and you are ready to start catching mosquitoes. It has a powerful fan and has the ability to attract bugs from up to one acre away.
---
4. Mega-Catch Pro 900
Specifications
Dimensions: 22 x 14.5 x 12.5"
Weight: 19.84 pounds
Programmable Multi Function Timer
Do-It-Yourself Diagnostic Package
CO2 Ready
Comes Fully Assembled and Ready to Use
PROS:
Powerful yet Quiet Vacuum
Programmable, Allowing You to Decide When CO2 Will Run and How Long the Device Will Run
Easy to Set up
Easy to Clean and Easy to Maintain
CONS:
CO2 Tanks Needs to Be Replaced Frequently
LED Control Panels May Fail after the First Year of Use
Review:
The Mega-Catch Pro 900 is an effective electronic mosquito killer that uses visible and invisible signals to attract mosquitoes. The device incorporates color, shape, vibration, and infrared heat sources as attractants.
A powerful fan sucks mosquitoes into a bag or to a moisture filled container.
While the Mega-Catch Pro 900 is able to attract and capture mosquitoes without using CO2, the Mega-Catch Pro 900 Ultra model is the flagship and as such is equipped with a slow release gas system. With or without using CO2, this device is a superior electric mosquito killer.
A Customizable Electronic Mosquito Killer
A programmable timer allows you to vary when and how the device activates. The Mosquito Attracting Stimuli setting adjusts and fine-tunes the device using thousands of settings.
You can effectively target the specific species of mosquito in your area. Fragrance strip attractants can be used to attract even more mosquitoes to the device.
Easy to Use and Maintain
These traps are designed to be maintained and serviced by the customer. There is no need to send the product back to the manufacturer for cleaning or for repair. Repair instructions are easy to download, and parts can be ordered online.
---
5. Mosquito Magnet MM3300B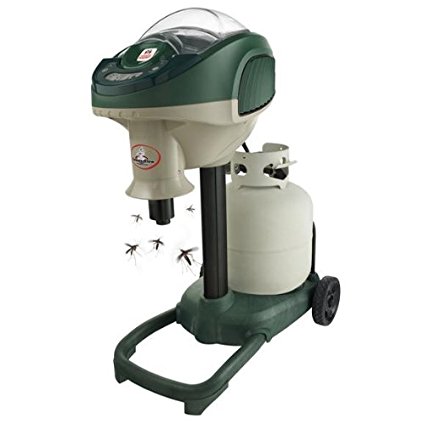 Specifications
Dimensions: 29 x 17 x 35"
Use Outdoors
Noise Free/Odorless
A Patented Catalytic Converter That Transforms Propane into Carbon Dioxide
Five User-Friendly Digital Settings. Four Fuel Saving Modes
Automatic Power up and Powerdown Based on External Temperature
Patented Net Designed to Maximize Continuous Airflow
Cordless
Easy to Clean Net
Protects up to One Acre
PROS:
Completely Customizable, Allowing You to Regulate the Trap
Perfect for Large Outdoor Areas
Once Captured, the Mosquitoes Cannot Escape the Net
Rechargeable Batteries Allow You to Use It Wherever You Are
CONS:
An Expensive Model, upwards of $800
Requires a Propane Canister, Which Needs to Be Purchased Separately and Replaced Frequently
Review:
This propane Mosquito Magnet is perfect for those living in areas with a heavy mosquito population. You will appreciate its versatility immediately.
You can program it to attract the mosquito species that live in your area. Enjoy your time outdoors without worrying about getting bit or contracting a mosquito borne virus. This is a Mosquito Magnet pro device.
Why Is It so Effective?
The Mosquito Magnet MM 3300B takes propane and converts it into CO2 gas. However, what sets this device apart from some of the other models that we've reviewed is its ability to create heat and moisture that simulate human breath.
Human breath is what allows mosquitoes to find their target. Mosquitoes think that they have found a juicy target. Yet to their surprise, the powerful vacuum sucks them inside a net that they cannot escape from.
With time, they dehydrate and die.
Customized Settings
Mosquito species vary depending on where you live. The Mosquito Magnet MM 3300B takes this into consideration, allowing you to adjust five different setting options to determine how the device will operate.
Controllable features include: how much fuel it will use, when the device turns on and off, and what type of mosquitoes you want to attract.
What to Expect from the Product
The trap reaches up to one acre. Don't expect overnight results. This is not a mosquito repellent device.
But as it kills off mosquitoes in every stage of their reproductive cycle, you will slowly see the mosquito population in your area disappear.
It is easy to clean, and it has been uniquely designed so that mosquitoes that are sucked into the device do not block the airflow.
---
6. Dynatrap Insect Trap
Specifications
Dimensions: 13×13.2×16 inches
Weight: 10.6 pounds
Titanium Dioxide Coating
Generates UV Fluorescent Light
Light Bulbs Will Last for 3,000 Hours of Continuous Use
Silent Operating, No Zapping or Buzzing Sound
Protects up to .5 Acres
PROS:
Triple Insect Attraction System
Vacuuming System Is Powerful yet Runs Silently
Durable Construction Designed to Endure Inclement Weather
Does Not Use Pesticides or Create Odors
CONS:
Only Works for Half an Acre Radius and Is Ineffective beyond This Range
Not Designed for Indoor Use
Review:
Backyard mosquito control can be a challenge because of the variety of mosquitoes in a given area, as well as the effectiveness of mosquitoes at avoiding traps. The Dynatrap DT2000XL has received one of our best mosquito trap reviews because of its triple redundancy mosquito trapping method.
Method 1. Ultraviolet Light: Insects mindlessly fly to ultraviolet light.
Method 2. CO2 Production: This device produces CO2 using its titanium dioxide coating. Mosquitoes are attracted to CO2 because it is the same gas that mammals produce when they breathe.
Method 3. Water Collection: The device comes equipped with a tray that will collect water either from the rain or from the morning dew. Mosquitoes use standing water as a breeding source. When the insects come to the standing water to breed, they are sucked up by the powerful vacuum.
Perfect for Smaller Yards
The Dynatrap DT2000XL is the perfect CO2 mosquito trap for smaller yards. It attracts mosquitoes from approximately half of an acre way.
Its spacious cage can hold a lot of mosquitoes, it is easy to remove, and it easy to clean. You can clean it without touching the dead mosquitoes that are trapped inside.
The Dynatrap DT2000XL is not designed for mosquito trap indoor use. It is most effective when placed outdoors in a shady area or in an area where mosquitoes congregate.
It's unique design and high quality construction has led to this device winning the IENA award for best invention.
---
7. Mosquito Magnet MM3200B
Specifications
Dimensions: 33×17×19 inches
Weight: 30 pounds
Color: green
Built from a Weather Resistant Plastic
Counterflow Technology
30 Day Moneyback Guarantee
Cordless Technology
Drawstring Net That Allows You to Avoid Coming into Contact with the Dead Insects
Coverage Area One Acre
PROS:
Cordless
Uses Standard Batteries
Covers over an Acre of Space
Has Wheels That Allows It to Move around
Allows Bug Cleanup and Removal without Coming into Contact with Dead Insects
Odorless
Silent
Effective
CONS:
Batteries Need to Be Replaced or Recharged Frequently
Although It Is Less Expensive Than Other Models, It Is Not the Cheapest Model Available and Only Offers a Minimal Number of Features
No Fuel Saving Technology
Review:
While it is simpler than its executive counterpart, the Mosquito Magnet MM 3200B is a formidable weapon in your fight against mosquitoes and other flying insects. It features one button operation, easy setup, and ease of use.
Unique Features
The Mosquito Magnet MM 3200B is a cordless device that uses 4C batteries for power. These batteries should last multiple months before they need to be changed.
The disposable net feature makes the Mosquito Magnet MM 3200B different than other propane mosquito traps. The net should be replaced weekly.
A Durable Product
The Mosquito Magnet MM 3200B stands out because of its durability and weather resistance.
This propane bug killer is versatile since it can be moved anywhere in your yard or property. It is an affordable option, especially if you feel that having a cordless mosquito trap is a must.
When looking at the initial cost of this unit, factor in the cost of changing batteries as well as the cost of replacing the disposable nets.
---
8. Stinger Insect Trap
Specifications
Dimensions: 8.4×8.4×12.4 inches
Weight 4.3 pounds
Environmentally Safe/No Chemicals Are Used
Uses UV White Light to Attract and Trap Flying Insects
Quiet but Powerful Fan Used to Suck Insects into The Internal Trap
PROS:
Effective at Trapping Mosquitoes, Flies, Gnats, and Other Flying Insects
The Use of UV White Light Eliminates the Need for Chemicals
Is Lightweight and Can Be Hung Anywhere
Since It Does Not Produce Carbon Dioxide, It Can Be Used in the Home
Is Relatively Inexpensive When Compared to Other Brands
CONS:
Only Works in Dark Areas Where It Is the Only Light source
Can Be Difficult to Clean
Replacing the UV Lightbulb Is Expensive
The Fan Makes a Moderate Amount of Noise
Review:
The Stinger Insect Trap is one of the best indoor mosquito machines we have reviewed. Unlike an outdoor mosquito trap or a mosquito propane trap, this device relies on UV white light to attract mosquitoes.
Per the manufacturer's instructions, it is best to put it this trap between 3 and 6 feet off the floor. It is the most effective when stored in a dark place. It is a corded device, and so it will require electricity.
A Simple Concept
An ultraviolet white light attracts insects and other flying bugs. When they get close enough to the device, a fan sucks them in. They are put in a trap and eventually dehydrate.
A nice feature of this device is that the off switch simultaneously closes the trap. So any mosquitoes that you have trapped do not have the ability to escape.
Containing Mosquitoes
The mosquitoes are sucked into a caged area. It is not uncommon for them to get stuck in other parts of the device. Since the cage that traps the bugs does not detach from the device, it can be a challenge trying to shake or maneuver the dead bugs out of the small hole on the device that has been designed for this purpose.
Silent Running/Bright Lights
The machine is virtually silent. You will only hear the whirring sound that you would expect from a small fan. The UV light on the device has a strong glow, and this might be frustrating if you have the device in an area where you are trying to sleep.
It is also worth noting that the UV light needs to be replaced on an annual basis. Unfortunately, the UV light can cost up to 50 percent of what you spent for the unit.
---
9. Viatek Mosquito Patio Trap
Specifications
Dimensions: 7.3 time 7.4×7.4 inches
Weight 1.23 pounds
Portable
Easy Clean Chamber/Clean Killing System
PROS:
Inexpensive
Easy to Use/Set up
Virtually Maintenance Free
Can Be Used Indoors or Outdoors
Easy to Clean
CONS:
Only Covers a Small Area
LED Light Not As Powerful As Other Devices
Short Extension Cord
Cannot Be Kept Running outside for an Extended Period of Time
Review:
One of the very first things you'll notice when looking at the Viatek Mosquito Patio Trap is its price. It's very inexpensive, coming in at under $50. This device uses a lot of the same technology that you might find in a more expensive outdoor mosquito trap.
Unique Yet Attractive Design
Out-of-the-box, you will notice that the device is very attractive. It is small and has a cherry shaped plastic top.
Underneath the top, you will see blue spectrum LED lights and a small fan. The device has a titanium dioxide coating. When the titanium dioxide comes in contact with the light from the LED bulb, CO2 is created. This CO2 attracts mosquitoes to the device that are subsequently sucked in and eventually die.
Simple to Use
Something that sets this device apart from others is its ease-of-use. You simply remove the product from the box, plug it in, and turn it on.
Cleaning is also easy. Simply unscrew the capture bin, clean it out, and put it back into its place.
Virtually Maintenance Free
This one of the best mosquito traps we have seen because it is maintenance free, and the use of LED lights means that you do not need to replace costly light bulbs.
The device runs quietly, it's cool to touch, and the light that it produces is powerful enough to attract mosquitoes, but is not so overwhelming that it is annoyingly bright.
A Good Device, but Not Perfect
For all the positive things about this device, there are some drawbacks. First, when it is used outdoors it needs to be covered since it is not weatherproof. It is weather resistant, but it is not designed to be outdoors 24 hours a day 7 days a week.
Additionally, the small extension cord is not nearly long enough to allow you to use the device without purchasing a longer extension cord. This is a nice entry-level model, but if you are looking for something that is powerful and has the ability to cover an acre or more of area, we recommend you look at some of the other models we discussed in earlier propane mosquito trap reviews.
---
10. Koolatron MK05 Champion
Specifications
Dimensions 12.5×11×9 inches
Weight: 7.8 inches
Coverage: .5 acres
Attractant: CO2, Light, Heat, Octenal. This Device Uses a Patented Blue Light System
PROS:
Lightweight
Weather Resistant
Uses Multiple Attractants
Covers a Wide Area
Works Well with Any Landscape
Easy to Assemble, Use, and Clean
Less Expensive Than More Advanced Models
CONS:
Weak Vacuum System Minimizes the Products Effectiveness
Must Be Connected to a Power Source to Function
Review:
Koolatron MK05 Champion is a mega catch mosquito trap that has gotten some mixed mosquito trap reviews. On the one hand, the trap has been proven to be effective at luring mosquitoes. This is because it uses different techniques to attract the mosquitoes.
The Four Pronged Approach
First, it produces carbon dioxide, which is the primary signaling device to mosquitoes that there are potential pray present.
Second, it uses light, which is a powerful attractant for all flying insects.
Third, it gives off heat which is another tool that mosquitoes use to find their prey.
Fourth octenol cartridges are used to draw mosquitoes into the trap.
Not Enough Vacuum Power
A combination of these four techniques, has been proven to effectively draw mosquitoes to the trap, but the problem that many people have with this device is that once the mosquitoes are in the vicinity of the trap, the fan is not powerful enough to create the suction needed to pull the mosquitoes into the trap.
Some have complained that individuals who are sitting in the vicinity of the trap are basically just sitting in a pool of mosquitoes.
For Outdoor Use Only
This is an outdoor mosquito trap, and should not be used inside a home or a business. The trap needs electrical power to function, and it has been designed to be weatherproof. As a result, it can be run outdoors 24 hours a day seven days a week especially during high mosquito season.
The device is simple to set up and requires no assembly. It has an attractive design, that fits perfectly into any landscape.
---
Best Mosquito Trap Brands
Mega-Catch Review
Since August 2000, Enviro Safe Technologies International Limited has been marketing the Mega Catch mosquito trap. Enviro Safe Technologies International Limited prides itself on being among the first companies to produce a viable and environmentally friendly mosquito trap. Their traps have been used in various parts of the world, including Australia, Africa, Asia, North America, as well as Central and South America.
By 2002, and after a complete evaluation and testing period by the USDA, the company was ready to unveil two new models to the world. These were the Premier and the Ultra Traps.
As the decades went on, Enviro Safe Technologies International Limited pioneered more innovative technologies, leading to the release of the Alpha Trap in 2006 and the Next Generation ProSeries that became available for sale in 2011.
This company is driven by the desire to create environmentally friendly ways of controlling the mosquito population and in turn minimizing the use of harmful pesticides around the world. Their eco-friendly message has resonated with many of their customers.
Mosquito Magnet Review
Woodstream Corp is the creative and financial force behind the wildly successful Mosquito Magnet brand. For more than a century and a half, Woodstream Corp has made a name for itself using innovative ways of controlling insects and animals, be them pets, wildlife, or pests.
They pride themselves on their ability to find creative, yet environmentally friendly solutions that homeowners can use in their gardens and outdoor space and that large companies can use in commercial environments.
Woodstream Corp attributes their 150 years of success to their ability to grow with the needs of their customers. Their approach is customer driven. The products they create are high-quality and use state-of-the-art technology to achieve their goal.
As is evidenced by the response the public has had to the Mosquito Magnet, the proactive approach of Woodstream Corp in creating products that preserve the environment and protect wild animals has been wildly successful.
Koolatron Review
From its humble beginnings in 1983, Koolatron has expanded to being a company that produces more than 200 unique products that are sold in more than 30 countries around the globe. Their products range from 12 V coolers, appliances, medical technology, and products for the yard and garden.
Koolatron produces a number of high quality mosquito traps that include the:
Bite Shield Guard Pro Cordless
Bite Shield Guard Mosquito Trap
Bite Shield Champion Mosquito Trap
Bite Shield Protector
Koolatron is headquartered in Canada, but they have offices in New York and in Florida. The company has built its reputation by focusing on the quality of their products and customer care that.
They are able to keep their prices competitive because in addition to being a manufacturer, they are a fully integrated distributor of their products. Their attention to detail and their focus on quality has led to them becoming a licensee for companies like Coca-Cola and Michelin.
Blue Rhino Review
Blue Rhino is a company with origins that are just as unique as its name. Billy Prim, the company's founder, has always had the entrepreneurial spirit. From his early days as a small town convenience store owner in North Carolina, Billy's goal was to create something that was bigger than himself.
On a trip to Paris, one idea presented itself that has set the Blue Rhino company on the course that it currently is on. The founder noticed that in Paris, companies would exchange propane cylinders at gas stations.
Upon returning to the United States, he initiated this same idea with local stores. Soon he had a viable business. Later, on a trip to Africa, Billy saw a rhino run by his camera. He immediately recognized the strength and durability of the rhino. He coupled that with the blue flame that a propane fire makes and a new company was born.
In addition to distributing propane tanks, Blue Rhino designs barbecue grills, mosquito traps, and a hole host of other high quality products. Contrary to popular belief, Blue Rhino is not just propane.
Dyntrap Review
Dyntrap has become proficient at creating mosquito traps designed to meet the needs of their customers. As of 2006, this company has created nine traps that vary in price range, coverage area, and power. Additionally, their traps can be purchased in blue, bronze, or green, which can fit in well with the landscape you are placing it.
The traps produced by Dyntrap are designed to work indoors or outdoors. They are unique in that they do not require pesticides, and they do not use propane tanks to create CO2. Instead, these devices create CO2 via the chemical reaction that takes place when the titanium dioxide plating of the device comes in contact with UV light.
The mixture of light and CO2 produced by these devices attracts mosquitoes. Once the mosquitoes are in the vicinity of the device, a strong fan sucks them in and traps them until they are dead.
Why Propane Mosquito Traps work?
Mosquito traps work by preying on the olfactory senses of a mosquito. Mosquitoes hunt primarily by smell. Some species have the ability to sense CO2 from more than 30 m away. They are able to perceive Octenol and lactic acid from as far away as 15 ½ m.
Functionality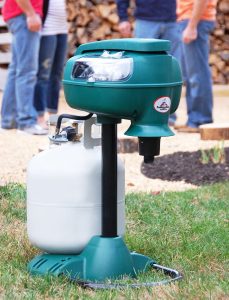 Propane mosquito traps produce CO2 via an external catalytic combustion. Some portable propane traps use the same metal housing construction in both the fan and the catalytic burner as well as the trap.
Its thermoelectric generator avails itself of some of this heat to create electricity, which in turn powers the fans of the vacuum.
Heat
The second tool mosquitoes use to hunt, and that mosquito traps exploit, is heat. Propane mosquito traps produce heat through combustion. On its own, heat is not a strong attractant for mosquitoes. However, when combined with other methods, it can simulate a living target.
Light and Motion
Light and motion are the third methods that propane mosquito traps use. Again, light is only effective when used in conjunction with the appropriate scents.
Capture Methods
Once the attractants draw the mosquitoes to the trap, three catch methods are available.
Mosquitoes are sucked into a net or a tray where they dehydrate and die.
Mosquitoes are attracted to an area, they fall into a tray of liquid, and they die. In some cases, the liquid itself can be an additional attractant. For example, sugar fermenting yeast will create CO2 organically.
Mosquitoes are vacuumed into a trap and then stuck on sticky paper.
Types Of Mosquito Traps
Heat traps
Mosquitoes and other insects are attracted to heat because heat usually means that there is a living being in the vicinity.
Heat traps are designed to function outdoors and in some rare instances in larger houses. Heat require large amounts of fuel and can be expensive.
H2O Traps
These traps work indoors and outdoors. They are usually designed to work in conjunction with CO2. The sitting water in the tray provides a breeding ground for mosquitoes.
So they are attracted to the water. However, the configuration of the trap leads to the mosquitoes drowning in the water.
CO2 Traps
These traps are believed to be the most effective traps on the market. Titanium dioxide and UV light is used to produce CO2.
Mosquitoes mistakenly a CO2 plume for the breath of a living creature. They are drawn to the vicinity of the trap, and then they are sucked into a net via the vacuum.
UV Indoor Traps
These traps work by playing on a mosquito's natural attraction to certain forms of UV light. Since these traps are placed indoors, they do not produce CO2 or any other gas.
The downside with these traps is that they have lights that need to be replaced frequently.
It is best to purchase multiple light bulbs for the trap simultaneously. Find the best indoor mosquito trap for you.
Propane Traps
These traps also work by producing CO2. The difference is that with a propane trap, a catalytic converter is used to create carbon dioxide. In addition to creating CO2, these traps create moisture and heat that further simulate human breathing.
When mosquitoes get near to the trap, a powerful vacuum sucks them in and either drowns them in water or traps them in a net until they dehydrate.
Factors To Consider When You Buying A Mosquito Trap
As our review has made it clear to this point, multiple companies produce a variety of models of mosquito traps. There are a few facts that you should consider before purchasing a particular model.
First, mosquitoes find their prey by following the gases mammals produce, primarily carbon dioxide.
Second, mosquitoes are not usually attracted to all light. They may be attracted to some lights because of the heat and moisture the light source produces.
Third, mosquitoes are not good flyers. They have very weak navigation and orientation skills. If they encounter a strong breeze, they are easily disorientated. They are forced to go wherever the wind blows them.
Finding the Right Mosquito Trap
Purchase a trap that produces the right bait to for mosquitoes in your area.
CO2 is one of the best mosquito baits available.
Traps that rely solely on light to attract mosquitoes are not always effective.
Find a trap that uses a mixture of CO2 and a vacuum system to catch nasty mosquitoes.
Where Will You Use It?
The next thing to consider when reading mosquito trap reviews is where will you put it. Even the best mosquito trap will fail if not placed in the right location.
Good locations are areas that have shade or are by sitting water.
Hang the trap 4–6 feet off the ground to get the best results. Reading mosquito trap reviews posted by users will give you more insight on what has worked and which locations have not worked for them.
Outdoor Traps versus Indoor Traps
Tips on Choosing the Best Mosquito Trap
When choosing the best mosquito trap, keep in mind what you want the trap to do. A mosquito trap is not mosquito repellent. It draws mosquitoes away from your indoor space or from your outdoor space to a container where they are trapped and die.
The Best Placement
Your goal is to draw mosquitoes away from your home or from the outdoor living space to the perimeter of your property. So measure the distance from that area to your property's border and then purchase a mosquito trap that will cover that area.
A Multi-Pronged Attack
The best mosquito trap is going to take advantage of a mosquitoes' sensory organs.
Mosquitoes have two eyes that are light-sensitive and two compound eyes. These are used to help them detect movement as they hunt during the day.
Their antennae allow them to detect carbon dioxide as well as more than 300 other odors produced by the human skin.
Finally, the maxillary palpus allows them to find heat, thereby identifying warm-blooded prey.
The More Options the Better
You want a propane trap that produces CO2, sits high enough off the ground to attract mosquitoes, comes with the option of adding attractants that mimic human skin, and a trap that utilizes UV lights in a way that captures a mosquito's attention.
Your Budget
You have to consider your budget when buying a mosquito trap. Some inexpensive models can go for as little as $50, while others can be in excess of $500. Propane mosquito traps require you to change the propane tank frequently and this is an added expense. While the lights on UV mosquito traps do not need to be changed as frequently as a propane tank, when they are changed, they are usually as up to 50 percent of the price of the mosquito trap.
Indoor versus Outdoor
Finally, you want to consider where you want to place the trap. A propane tank that releases CO2 into the air with other additives may not be the best idea for an indoor trap. However, a small titanium dioxide trap might not be a good idea for an outdoor trap since it will not stand up well to the weather.
Mosquito Trap FAQ
"How soon will I notice a reduction in mosquitoes?"

A: Mosquito traps are not designed to repel mosquitoes. So the first few days after you install the trap, you will still notice some mosquitoes around your home. However, after a few weeks, the mosquito trap will disrupt the reproduction cycle of mosquitoes, and you will begin to notice a drastic reduction of mosquitoes in the treated area.
"

Will mosquito traps endanger my pets or my children?

"
A: No. Mosquito traps do not produce dangerous chemicals, nor do they use pesticides. They are solely designed to attract mosquitoes and other flying insects. When used according to the manufacturer's recommendations, they pose no danger to your family or to your pets.
"

Are mosquito traps noisy?

"
A: No. Most mosquito traps are designed with a silent running fan. At most, you will hear a small hum that is comparable to what you would hear from the fan on a computer.
"

Can I use natural gas instead of propane?

"
A: No. Under no circumstances should natural gas used. These mosquito traps have been designed to use propane to create CO2. If propane is not available, a propane butane mixture may be used.
"

How long will a 20 pound propane tank last with a propane mosquito trap?

"
A: The answer to that question will vary depending on the design of your trap and whether or not it has a mode for reducing propane usage. In most cases, a 20 pound tank will last approximately three weeks. It is not recommended that you allow your tank to run out, so it's best to have a secondary tank on hand to swap it and reduce downtime. Reading the mosquito trap reviews for the brand you are purchasing will give you the best idea on how much propane the trap will use.
Where to Buy Best Mosquito Trap?
After hearing so much about mosquito traps from our mosquito trap reviews, you are probably wondering, where to buy the best mosquito trap? Most hardware stores and some major department stores will sell mosquito traps. And while you can find a nice variety in brick-and-mortar stores, our recommendation is to purchase the trap online.
Why buy Online
You can find a mosquito trap online by searching terms like "mosquito trap Amazon". The reason why we recommend buying your mosquito trap online is that in addition to getting a better price, you are able to read mosquito trap reviews, which will give you the best idea of what is right for you.
Ask Questions
Another benefit of buying online is that you can post questions as well as read questions that have been posted by other individuals in your position. You are able to compare prices and products without the pressure or stress that comes from trying to purchase an item in a brick-and-mortar store.
Home Delivery
An additional benefit of buying the trap online is that it gets delivered to your home. Manufacturer websites will offer their products at a discount, or they will release new products on their website before they are available for purchase in a brick-and-mortar store.
Making The Decision
The goal of this review was to provide you with a comprehensive list of the best mosquito traps available. Now, it is up to you to take the information that we have compiled in this mosquito trap review and decide what is the best mosquito trap for you, and then make the purchase.
Protecting your family from mosquitoes, is more important now than it has ever been. For the first time in recent years, mosquito borne illnesses are putting the health and lives of individuals in North America at risk. Zika virus is a prime example of this. In addition to getting people sick, it has been linked to birth defects in children born to mothers who are infected with the disease.
We invite you to weigh your options carefully, and consider the various devices that are available per purchase. Then, make a decision hop online, and order the mosquito trap you liked from our mosquito trap reviews. You're going to be surprised at the drastic reduction in the mosquito population you will see. Your family will be healthier, your guest will be happier, and you will have an improved quality of life.